Fri, 06 November 2020 at 6:00 pm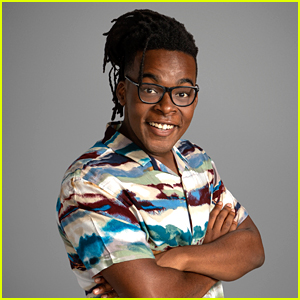 Jacques Chevelle is getting his big break in the new series Side Hustle!
The actor stars as Jaget, who is Munchy's (Isaiah Crews) older brother. He's blinded by power when given the slightest authority and gives his brother a hard time, even though he loves him.
He also idolizes his dad Tedward, the school's no-nonsense principal, and hopes to one day be his vice principal.
JJJ has been getting to know the lead guys of Side Hustle with 10 Fun Facts. You can see Jacques' below, and click here for Isaiah Crews, and HERE for Mitchell Berg's!
If you missed it, check out this exclusive, extended clip from the premiere episode, which airs TOMORROW (November 7) at 8:30pm ET/PT on Nickelodeon!
1. I started painting and drawing at the age of 9. Back then my art would consist of Dragon Ball Z characters and sketches of dragonflies. I was really into dragons.
2.I love to dance.
3. My favorite food is macaroni and cheese.
4. I was working on Shakespeare's Comedy Of Errors and I also wanted to be in the musical Into the Woods, so I went up to the director and asked to be a leaf just so I could be a part of both productions.
5. When I was younger I had huge dreams of being the next Emeril Lagasse or Gordon Ramsay. Bam!
Click inside for more fun facts about Jacques Cheevlle…
6. I always carry a sparkling water.
7. I enjoy hiking!
8. I curate playlists in my free time.
9. I'm from Atlanta, Georgia.
10. I was a linebacker in middle school. I stopped playing when everyone else started growing.
Like Just Jared Jr. on FB