Tue, 10 November 2020 at 2:01 pm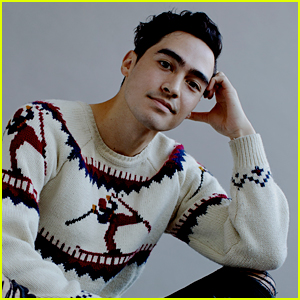 Troy Iwata can be seen in the new Netflix holiday series Dash & Lily!
The actor plays Langston, Lily's (Midori Francis) gay older brother, who is romantic, impulsive, and just a little immature. Having dropped out of college after experiencing his first heartbreak, he'll happily give his sister advice on boys, but could stand to take some advice himself.
Langston is half Japanese, and playing the role has implored Troy to learn more about his own Japanese background.
VIDEO: Watch the Dash & Lily trailer right here!
Troy was most recently in the Tony-nominated Broadway production of Be More Chill, and before that, he starred in the off-Broadway production of The Boy Who Danced On Air.
JJJ highly recommends you go watch Dash & Lily on Netflix, which is streaming now, and check out 10 Fun Facts with Troy below!
1. When I was little I wanted to be a professional chef even though I hated cooking, I really just wanted a nice kitchen.
2. I could graze on seaweed all day.
3. My brother and I use to put T-shirts on our waists and heads to make skirts and hair and then dance to Mozart in the living room and my mom would film it, there are multiple tapes.
4. Through college I worked as a Jungle Cruise Skipper at Disneyland.
5. I wore 2 pairs of underwear in all of middle school because of pantsing. My mom saw the paired undies while she was doing laundry and just looked at me and said, "Smart."
Click inside for more fun facts with Troy Iwata…
6. I am an Eagle Scout. I wasn't allowed to get my driver's license until I accomplished that. I remember zero of the knots.
7. I'm fine with Stanley Tucci playing gay men, but only him for some reason.
8. I didn't know I had a unibrow until Matthew Maynard ran up to me on the playground in 3rd grade and screamed, "You have a unibrow!"
9. One time my brother and I were visiting my Dad and unbeknownst to us, he had scheduled for us to be baptized, we just went along with it and then he gave us an iPod.
10. When I was little, my sister would give me candy to wash her car, and honestly, I'd probably still do it.
Like Just Jared Jr. on FB