Thu, 12 November 2020 at 1:01 pm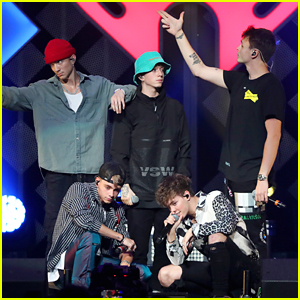 Why Don't We just revealed the title and release date of their second album!
The group – Corbyn Besson, Daniel Seavey, Jack Avery, Jonah Marais and Zach Herron – announced the news that their album The Good Times and The Bad Ones will be out on January 15th.
"These last few years have been an absolute whirlwind for us. From moving out to LA as a band and touring the world, to falling in and out of love, and now being locked inside for months…" they wrote on Instagram.
"Life has been amazing, and equally tough. But you have to do your best to make something beautiful out of it all, so that's what we did. We put everything into this album. We hope it helps you enjoy the good times and push through the bad ones. You can pre-order 'The Good Times and The Bad Ones' now and we'll see you on @theellenshow tomorrow. Link in our bio."
"Writing and co-producing our own music has been one of the most rewarding experiences for us," Corbyn said in a statement. "In the past four years we've become confident enough to reinvent ourselves, becoming the band we always hoped to be."
"It was time to do this ourselves," Daniel added. "These are our ideas, melodies, and thoughts."
Pre-order The Good Times and The Bad Ones right here!
Why Don't We are also set to appear on The Ellen DeGeneres Show on Thursday (November 12), to perform their single "Fallin'," but you can watch it right here now!

Why Don't We Perform Fallin' on 'Ellen'
Like Just Jared Jr. on FB