Fri, 13 November 2020 at 7:03 pm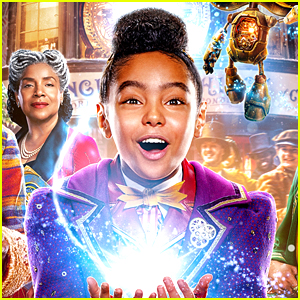 Madalen Mills is making her film debut in the holiday film Jingle Jangle: A Christmas Journey!
The 11-year-old actress stars as Journey in her first film ever role, which is now streaming on Netflix.
Madalen has previously appeared on Broadway in School of Rock: The Musical and in the 2017 national touring company of Dr. Seuss' How the Grinch Stole Christmas: The Musical.
"I loved the script. I loved the story, the message about never giving up and being yourself. And then of course when I met Mr. Talbert — it was divine intervention as we call it," Madalen said. "I remember when I had to learn a dance right on the spot because they were changing things around for this one scene, and he was just so supportive. He was like, 'Go, Madalen!' He was like my biggest fan on the set."
"It wasn't so much of an audition as it was an introduction to her. The role belonged to her," writer/director David E. Talbert said.
"The minute Madalen walked in the entire energy in the room shifted. We all knew almost instantaneously that she was Journey before she even sang a note," songwriter Philip Lawrence added of her.
JJJ got to know the rising star with 10 Fun Facts! Check them out below:
1. Hi! My name is Madalen Mills and I'm 11 years old. I was born in Atlanta, Georgia and lived in Tuscaloosa, AL until I was 8 years old. I then moved to New York City.
2. I believe that I was a cat in another life because I love cats. I have four cats. Their names are Gabbee Porkchop (tortoiseshell), Gizzee Pooh (long haired chocolate), Cupcake Moonpie (tuxedo), and Sunshine Sushi (long haired orange tabby). Gabbee Porkchop often travels with me when I'm working professionally. I also like dogs and other pets too!
3. In my free time, I like playing my bass guitar and piano, shopping for clothing and accessories, doing makeup, playing video games, reading and watching tv shows and movies.
4. I am a nerd, unapologetically. I love school and my favorite subject is math. I also love to read, and the last book I read was "Midnight Sun" by Stephenie Meyer. I also love to watch college football and pull for my favorite team, The Alabama Crimson Tide. Roll tide roll!!! (I also relish in pulling against my dad's favorite team, the Oklahoma Sooners. But don't tell him!)
5. When I was younger, I participated competitively in gymnastics. I also played in an all-boys basketball league, and I used to play football with my friends at school. And, I enjoyed beating all of the boys in running races at school, too (they would be mad, ha ha!).
Click inside for more fun facts from Madalen Mills…
6. I recently got my ears pierced! I've been wanting to get them pierced for a while, but when you work as a professional actress your contract doesn't allow it.
7. My favorite restaurant in NYC is Los Tacos No. 1!! In the two months I had off between filming Jingle Jangle and The Tiger Rising, I ate 53 chicken tacos (contodos!). Yes, I counted them!
8. I'm a total Potter-head! I've read the entire Harry Potter series, watched all of the movies a billion times, and I saw "Harry Potter and the Cursed Child" on Broadway.
The shows I've seen on Broadway are: "Mean Girls," "Harry Potter and the Cursed Child," "School of Rock," "Lion King," "Phantom of the Opera," "Charlie and the Chocolate Factory," "Aladdin," "Matilda," "The Play that Goes Wrong," "Frozen," "Anastasia" and "Finding Neverland."
I have been watching a lot of movies in quarantine! Right now, I'm into horror, and my mom is finally letting me watch some horror movies. So far, my favorite horror movie that I've seen is Get Out starring Mr. Daniel Kaluuya and directed by Mr. Jordan Peele.
Tune in to Jingle Jangle: A Christmas Journey, which is streaming on Netflix now!
Like Just Jared Jr. on FB