Fri, 13 November 2020 at 2:59 pm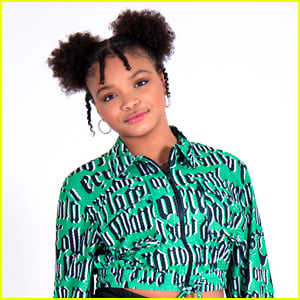 Kayden Grace Swan is taking over television screens in the new series The Astronauts!
The actress stars as Doria in the Nickelodeon series, which follows five kids who embark on the adventure of a lifetime when they are mistakenly launched into space.
Here's a synopsis: The spaceship Odyssey II is set to launch to investigate a mysterious asteroid passing by Earth. When a group of kids use their parent's security clearance to sneak onto the empty ship, the launch sequence is accidentally initiated.
Blasting off into space with no proper training, a malfunctioning onboard AI system, and their parents watching from Earth, the kids embark on a journey of survival using only their smarts and friendship as tools.
VIDEO: Watch The Astronauts trailer right here!
"Being cast as a lead in The Astronauts is more than just my wildest dreams coming true," Kayden told JJJ. "It is the YES that changed my life."
We got to know more about Kayden with an exclusive 10 Fun Facts. Check them out below!
Be sure to tune in to The Astronauts TONIGHT (November 13) at 7/6c on Nickelodeon!
1. I was born with Distichiasis (double eyelashes), a condition where you have two rows of eyelashes. People always ask me if my eyelashes are real because of the length and amount of lashes I have.
2. I'm super fascinated by celebrity birthdays.
3. I lost my teeth 3 times as a child.
4. I have been a Girl Scout since I was 6 years old and am currently working on my Silver Award.
5. I have played Lacrosse since I was 9 years old.
Click inside to see more fun facts from Kayden Grace Swan…
6. My favorite movie is the Twilight series and I've read every book.
7. My favorite era is the 80's. I love the music, fashion and tv shows.
8. My biggest pet peeve is what I call "louching." Loud chewing!!
9. My secret passion is to be the babysitter to celebrity kids!
10. I am a horror film fanatic and hope to play in a horror film one day.
Like Just Jared Jr. on FB