Thu, 19 November 2020 at 6:32 pm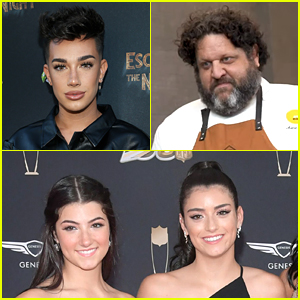 Charli and Dixie D'Amelio have been receiving a lot of hate and backlash this week after their recent family YouTube video.
The D'Amelios launched a new series on their channel where Chef Aaron May cooks up a meal and they have a special guest come over and join them.
In the first episode, James Charles was the guest, and at one point, they give Dixie a snail to try, and it makes her throw up. Then Charli says, "Do we have any dino nuggets?"
Since the video's release, a lot of people have been calling them disrespectful, rude, snobs, and more, and the sisters have been receiving threats of violence and a lot of hate comments. Charli has even lost a significant amount of followers on TikTok.
Dixie shared a video on her TikTok, addressing all the backlash.
"My family and I have been working with Chef Aaron May for a couple of months now, working on content for our channel and working on content for his channel, and [we've] made an amazing friendship," she said. "Before I even get into anything, I'm so grateful for every single person that follows me, every single person I care about, every single person I work with, every single person who works with me because I'm just so grateful for all of the opportunities I've had."
"My team knows I throw up a lot. I throw up at the smell, the thought or the taste of anything," Dixie added. "So, when they saw the snails, they were like, 'Oh, let's get her and try to see if we can get a reaction out of her.' … I love [our] chef, and I would never disrespect him in any way."
James has also shared a tweet defending Charli.
"this charli situation is NOT sitting right with me… 100M followers in one year & y'all expect her to know how to be a perfect role model? death threats because she's a picky eater & made a joke about a milestone? 30+ year olds dragging someone half their age? feels familiar," he wrote.
Click inside to see what Chef Aaron said…
The Hollywood Fix's Fletcher caught up with Chef Aaron May who was out with the D'Amelio's Creative Director Tommy Burns, and asked about the situation and the news surrounding it.
"I would call it 'fake news' right now. Those girls are the greatest, I love them. It was all fun and games," Aaron said. "Not at all, not at all [were my feelings hurt]. I don't expect her to love the snails. Like I said, somebody thought it would be funny to feed them snails, and they reacted the way they reacted. It's all good."
"It was my idea. We're in the content business, and I've known Dixie and Charli for a long time, I've known the family for a long time. I knew Dixie would eat it, she's fearless, she's afraid of nothing. I knew she would try it, I knew she probably wouldn't like it," Tommy said.
this charli situation is NOT sitting right with me… 100M followers in one year & y'all expect her to know how to be a perfect role model? death threats because she's a picky eater & made a joke about a milestone? 30+ year olds dragging someone half their age? feels familiar 😐

— James Charles (@jamescharles) November 19, 2020
@dixiedamelio

-video…anyways, not posting this for any other reason than to share the truth of something that was ridiculously blown out of proportion…
Like Just Jared Jr. on FB