Thu, 19 November 2020 at 7:14 pm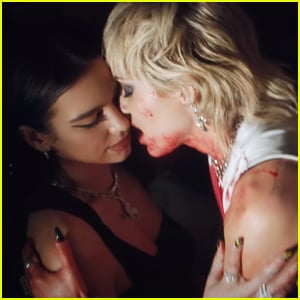 Miley Cyrus and Dua Lipa get close in the just released music video for their new song "Prisoner"!
The new track is the second single from Miley's upcoming new album Plastic Hearts, which is out on November 27th.
The 27-year-old "Midnight Sky" singer recently opened up about the song and working with Dua.
"What I love about 'Prisoner,' I mean, I think it's also coming at a perfect time for everybody. I mean, in a way…I feel too, I mean, we're just trapped in our emotions right now. I mean, really me, there's no escaping it," Miley told Apple Music. "It's like, 'Locked up, can't get you off my mind.' Anything that you've tried to suppress or compartmentalize at that point, it's coming up. It's yours to own, to own it or release it. In a way, her and I, we have a lot of things in common, if you look at us.I would say our love for fashion, this is my number one, me and Dua both. She's probably the only person that can rival my collection of fuzzy hats. We have a love for fuzzy hats."
"I like when you walk into a room, she's recognizable. To me, that's a star. I love that about her," Miley added. "I also love that she's very direct. We edited this video on text message, me and her directly as artists. I just don't want to play telephone when I'm making music. I want to make it with who I'm making with. I don't want to do a song with someone's manager. I want to do a song with the artist. Her allowing me to have that direct line of communication and then also the ability to just trust each other, both of us, I think our egos are pretty in check that she's very willing and I'm very willing. There's just, also, there's a lack of competition because in the ways that we're so much alike, we're very different."

Miley Cyrus – 'Prisoner' Feat. Dua Lipa
Like Just Jared Jr. on FB