Mon, 23 November 2020 at 1:58 pm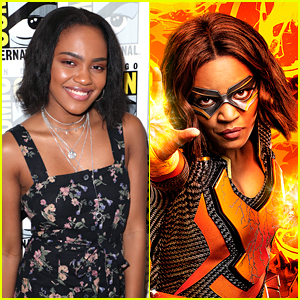 China McClain is opening up about the cancelation of her show Black Lightning.
The 22-year-old actress shared that she found out at the same time as everyone else, and that she was actually already going to be leaving the show.
"Hey y'all, so there's something that I want to tell you. For those of you who haven't heard, and if you haven't heard, I'm sorry, but this season that we're filming of Black Lightning now, is going to be the last season of the show. I didn't that find out until yesterday. I found out with everybody else. I didn't know," China revealed.
"But, what I did know, and have known, along with the rest of the cast, since before we even started shooting this season, is that I am leaving the show, and was leaving the show. This was going to be my last season, regardless if it went on or not. For different reasons that, to be honest, I don't want to go into. I just want y'all to trust me on it," she continued.
China also shared that she's only going to be in a limited amount of episodes this upcoming season.
"I didn't want to tell you until I had to, but now with this news breaking, I thought that it would be the right time. I knew I was going to have to tell you at some point because I only agreed to do a certain number of episodes, so I'm not in the whole season," she said. "Obviously y'all are going to notice that, given the fact that I've been in every episode in the past three seasons."
She also said that she's not leaving on bad terms, or because she had a bad experience, but she feels a higher calling/purpose after this year.
"I'm not leaving because I had a terrible time working at The CW. I like The CW. I like [network president] Mark Pedowitz, I like Peter Roth, Greg Berlanti. I love [showrunner] Salim, I always will. He gets it," she said. "God is moving me in more than one way than just this show. It's bigger than this show."
Check out her full IG video below…
Like Just Jared Jr. on FB