Wed, 25 November 2020 at 5:06 pm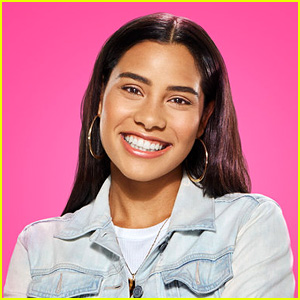 Haskiri Velazquez is starring in the Saved By The Bell revival!
The actress stars as Daisy in the reboot series, which is now streaming on Peacock.
VIDEO: Watch the Saved By The Bell trailer!
Here's a synopsis: When California governor Zack Morris gets into hot water for closing too many underfunded high schools, he proposes they send the affected students to the most well-funded schools in the state – including Bayside High.
The influx of new students gives the privileged Bayside kids (who never have a problem that can't be solved in twenty-two minutes) a much-needed dose of reality.
Just Jared Jr learned more about Haskiri with our exclusive 10 Fun Facts feature. Get to know her below:
1. I am Dominican & Puerto Rican! My mother is Dominican & my father is Puerto Rican.
2. I am a Virgo! So I have a major perfectionist personality. It has its pros and cons for sure! (Hey September 10 birthdays!!)
3. For as long as I can remember I've always put on shows for my family & friends, entertaining people around me was something I always loved to do. But my first start to acting was in the Theater. I attended Urban Arts Partnership a nonprofit organization that helped low income schools and kids have resources in the arts. I was part of their Lifestories program and out on many black box productions.
4. My first paid gig was as Tatiana Garcia in NYC 22! I was about 15-16 years old, and I thought I had made it! Haha!!
5. I grew up in Dyckman, NYC. It's this neighborhood almost at the top of Manhattan; honestly speaking it's the hood, but it was the only place I knew for a very long time. I never heard of success stories about people making it out from there, so I hope I can be of inspiration that YOU CAN make it out and become anything you set your mind too.
Click inside to find out more about Haskiri Velazquez…
6. I have two dogs! An Aussiedoodle named Blu and a Goldendoodle named Milo.
7. I can do this very realistic sounding baby cry; I have no idea how I figured it out. But it's a trick I like to do at gatherings. HAHA!
8. I really enjoy a vast variety of music. My Spotify will have you on an emotional, multiple era, all over the place genre rollercoaster. It's great!
9. I LOVE ICE CREAM. It's a guilty pleasure of mine, you can lure me in with a great pint of like chocolate chip cookie dough or anything from Salt & Straw lol!!
10. I have a YouTube channel called LoveAcrossTheHudson with my boyfriend Nate. We give out a bunch of advice, and you can truly see both our growth, and our journey and how we always believed in our dreams and never gave up no matter how hard it got or how far it felt at times.
Like Just Jared Jr. on FB