Fri, 27 November 2020 at 5:30 pm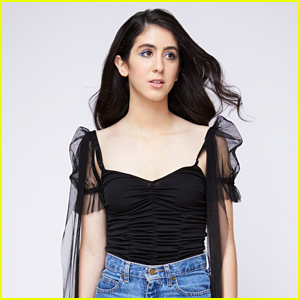 Meet Sascha Nastasi!
The just-turned 18-year-old actress can be seen in the new movie Black Beauty, which just premiered on Disney+ on Friday (November 27).
"BLACK BEAUTY IS OUT NOW ON DISNEY+ !!!!" Sascha excitedly wrote on Instagram. "GO WATCH IT YOU'LL LAUGH AND YOU'LL CRY — a wonderfully cathartic cry — AHH!!! (I am so happy to be a tiny part of this movie. @ashleyavis is brilliant and wonderful. And also I took inspiration from — stole — @maxraph post concept)"
In her first film role, Sascha plays a competitive and persnickety equestrian and the main antagonist to Mackenzie Foy's character Jo.
VIDEO: Watch the Black Beauty trailer right here!
Here's a synopsis: This modern day reimagining of Anna Sewell's timeless classic, follows Black Beauty (Kate Winslet), a wild horse born free in the American West. Rounded up and taken away from her family, Beauty is brought to Birtwick Stables where she meets a spirited teenage girl, Jo Green (Foy). Beauty and Jo forge an unbreakable bond that carries Beauty through the different chapters, challenges, and adventures of her life.
Get to know more about Sascha Nastasi with 10 Fun Facts below, and be sure to catch her in Black Beauty on Disney+ now!
1. I have two dogs, one named Malteaser (after the English malted milk ball chocolates, Malteasers), and one named Don Corleone. Malteaser is obsessed with fruit and Don Corleone loves popcorn and PopChips a rather absurd amount.
2. My favorite movie scenes are the first scene in The Social Network, and the respective last scenes of Portrait of a Lady on Fire and Madeline's Madeline. Also: every scene in 3 Women.
3. I am a huge fan of Annie Baker's plays and have read them all (my favorites are John and The Antipodes), but have only ever seen one (The Aliens) performed live.
4. A few months ago, I started being pen-pals with a few of my friends. Writing letters is a lot of fun; I think there is something cool about the prolonged form of conversation which letters allow (something — given texting, Snapchat, etc — which feels now kind of extinct). And waiting and waiting for a letter and then getting it and being able to hold it in one's hand is a wonderful feeling. Letters from friends feel like a tangible slice of the friendship.
5. I would love to play Jessica in This Is Our Youth.
Click inside for more from Sascha…
6. I have a lot of dreams involving teeth. Most frequently, I dream of almost biting off half of my two front teeth.
7. Philip Seymour Hoffman is my favorite actor.
8. After watching The Killing of a Sacred Deer, I became very much obsessed with the film and would read and re-read the screenplay during Chemistry class my sophomore year. (This was probably not the best route to Chemistry comprehension).
9. I am always practicing my Irish accent.
10. Halloween is my favorite holiday. I also really like the song "Halloween" by Phoebe Bridgers.
Like Just Jared Jr. on FB