Fri, 04 December 2020 at 5:03 pm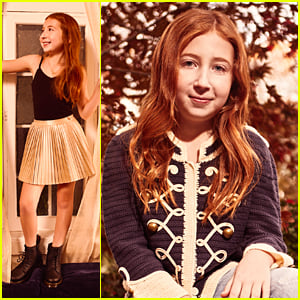 Willa Skye is boosting her notoriety with the new movie Godmothered!
The young actress stars alongside Isla Fisher, Jillian Bell and Jillian Shea Spaeder in the comedy film for Disney+, which was just released TODAY (December 4).
Willa plays Mia, one of Isla's daughters, and it's only her second film role!
Godmothered centers around a young fairy godmother-in-training named Eleanor (Bell), who discovers that her profession as fairy godmother is in danger of ending. Determined to show her worth, Eleanor tries to help a girl whose wish was ignored, only to discover that she grew into a woman named Mackenzie (Fisher) who, having lost her husband years ago, grew disillusioned with the idea of a "happily ever after."

JJJ got to know more about Willa with 10 Fun Facts, and one thing that really stands out is her love for food. (Same!) Check out her fun facts below…
In case you missed it, be sure to check out our fun facts with Willa's co-star and on-screen sister Jillian Shea Spaeder!
1. Reading is my favorite subject in school. Math is my least favorite – I guess the numbers just don't add up!!
2. Speaking of reading, I read 20 books over quarantine. I can't get enough of the "Warriors" series by Erin Hunter!
3. I take ballet twice a week and I absolutely love it.
4. My all-time favorite dessert is s'mores!
5.I have a rescue dog named Mickey. His favorite food is butter….. don't ask!
Click inside for more from Godmothered's Willa Skye…
6. I am a big fan of making mocktails. My favorite one to make is a mocktail Mai Tai – with umbrellas of course.
7.I love to cook for people. My mom and I made pudding pots with Oreo crumbs to look like soil, and a sprig of mint to look like the plant. It was so much fun and I made them vegan so my dad can eat them!
8. I LOVE Disneyland. My favorite ride will always be It's A Small World.
9. I am TERRIFIED of horror movies.
10. We filmed a scene of Godmothered outside on one of the coldest days of winter. I had to wear SO many layers of clothes, even a heating vest and extra hand and foot warmers!
Tune in to 'Godmothered,' now streaming on Disney+!
Like Just Jared Jr. on FB