Fri, 04 December 2020 at 12:45 pm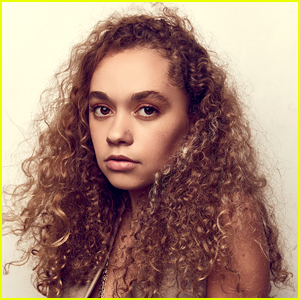 Jillian Shea Spaeder is opening up about herself with JJJ!
The 18-year-old actress can be seen starring in the new Disney+ movie Godmothered, alongside Isla Fisher, Jillian Bell and Willa Skye.
Here's a synopsis: Set at Christmas time, Godmothered is a comedy about Eleanor, a young, inexperienced fairy godmother-in-training (Bell) who upon hearing that her chosen profession is facing extinction, decides to show the world that people still need fairy godmothers.
Finding a mislaid letter from a 10-year-old girl in distress, Eleanor tracks her down and discovers that the girl, Mackenzie, is now a 40-year-old single mom (Fisher) working at a news station in Boston. Having lost her husband several years earlier, Mackenzie has all but given up on the idea of "Happily Ever After," but Eleanor is bound and determined to give Mackenzie a happiness makeover, whether she likes it or not.
VIDEO: Click here to watch the Godmothered trailer!
Jillian plays Jane, Mackenzie's oldest daughter, and she even gets to do something she loves!
"I was thrilled to be cast as Jane in Godmothered. It was a dream role for me, because I also got to sing and play guitar," she told us. "Most of my scenes were with Isla, Jillian [Bell], Mary Elizabeth [Ellis] and Willa, so we really felt like a family by the end. I know they will all be my friends for life."
"We filmed in Boston in the middle of winter, so it was pretty cold out, but I fell in love with that city and hope to go back sometime," Jillian added about their filming location.
You can catch Godmothered streaming NOW on Disney+ and check out 10 Fun Facts with Jillian Shea Spaeder below..
1. I have a pet snail named Charlie.
2. I performed an acoustic version of "Let It Snow" for my first Godmothered audition.
3. I played softball in Little League for several years.
4. When I was little, I knocked my two front teeth out trying to get a popsicle.
5. I played clarinet in my elementary school band.
Click inside to learn more about Jillian Shea Spaeder…
6. Artichokes are my favorite vegetable.
7. I once played the role of the Genie in Aladdin Jr.
8. I love doing arts and crafts.
9. I started writing songs when I was 13.
10. I've been a wakeboarder since kindergarten.
Like Just Jared Jr. on FB