Fri, 04 December 2020 at 7:20 pm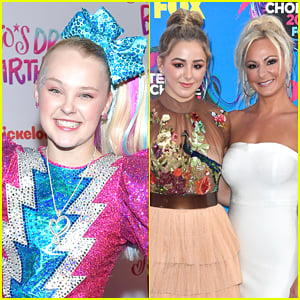 JoJo Siwa is not happy about a comment made from former Dance Mom Christi Lukasiak!
The 17-year-old entertainer took to social media to call out Chloe Lukasiak's mom.
In a recent Zoom Q&A, someone asked if she still talked to Gianna Martello, Abby Lee Miller's former assistant coach.
"No, Gianna's not nice," Christi responded.
The video showed up on JoJo's feed and she shared a video reaction.
"I never like to comment on things or get involved in things that don't involve me, but this, I just have to say. This just came up on my 'For You' page and that is absolutely the most disgusting and ignorant thing that I have heard anybody say," JoJo started out. "First of all, Gia is one of the sweetest people in the whole world and second of all, she worked so hard every single week for so many people, including Chloe. She had one of the most stressful jobs on the show. She was in charge of choreographing every single number."
"Now, yes, of course everyone has their moments and everyone isn't nice 24/7, including you, Christi, but the thing is that you don't need to say that somebody is not a nice person," she continued. "I'm sure you're a very nice person even though the experience that I've had with you, you were not nice to me. You actually made a very rude comment to me, but it may have just been a moment."
"You don't need to say that people are not nice people. I would never say that you're not a nice person just because our moment you were rude to me. It's just not what you do."
Abby Lee even commented on JoJo's Instagram post, along with fellow former Dance Moms star Ava Michelle, who wrote, "love you for this ❤️." See Abby's comments in the gallery!
If you missed it, another former Dance Moms star was in the middle of a controversy just a few weeks ago.
Like Just Jared Jr. on FB