Tue, 08 December 2020 at 1:10 pm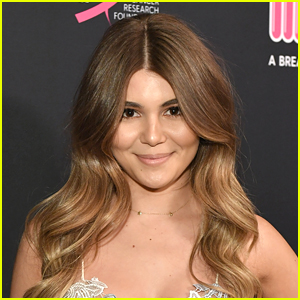 Olivia Jade is speaking out about the college admissions scandal for the first time!
The 21-year-old went on Red Table Talk as she was finally ready to open up about the situation.
Olivia shared that she's embarrassed by the whole thing, and that though she didn't at the time, she now understands her privelege in the situation, and why it was wrong.
"I think that this has been a really eye-opening experience for me and situation, and although there's a lot of negative around it, and there's a lot of mistakes and wrongdoings, it's led me to have a completely different outlook on a lot of situations," she said. "I also felt like I wanted to be somewhere I didn't feel attacked and maybe could feel more understood. I watch the show and I think you guys are all amazing and it feels really safe, but it also feels honest and it feels like we're going to lay it all out here, and it's going to be an open conversation which is really important to me as well."
Olivia also revealed that she hasn't talked to her parents, Lori Loughlin and Mossimo Giannulli since they've been in prison.
"It's been hard. I think for anybody, no matter what the situation is, you don't want to see your parents go to prison. But also I think it's necessary for us to move on and move forward," she shared. "I think that what hasn't been super public is that there is no justifying or excusing what happened, cause what happened was wrong and I think every single person in my family can be like, 'That was messed up. That was a big mistake.' But I think what's so important to me is to learn from the mistake. Not to now be shamed and punished and never given a second chance. Because I'm 21, I feel like I deserve a second chance to redeem myself, to show I've grown."
"I actually haven't spoken to either of them. There's a quarantine phase, just 'cause of COVID. So I think that is the reason but I'm not too sure—I just haven't heard anything so I'm just waiting," Olivia added. "I've never gone that long without—I'm super close with my parents, especially my mom, she's like my best friend. So it's definitely been really hard not being able to talk to her, but I know she's strong, and I know it's a good reflection period."
See more standout moments from the interview on Just Jared, and/or watch the video below!

Olivia Jade Speaks Out on 'Red Table Talk'
Like Just Jared Jr. on FB