Wed, 09 December 2020 at 8:06 pm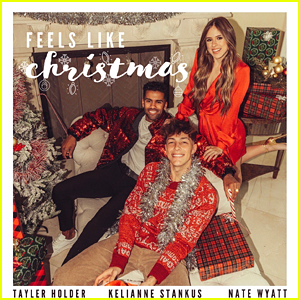 The Trio – Tayler Holder, Kelianne Stankus and Nate Wyatt – have released a brand new, original Christmas song!
The three social media stars formed a group and debuted "Feels Like Christmas" this week.
"We're not officially a band, however, we always knew we wanted to do something for our supporters," Kelianne told JJJ. "Our hope was to create something to lift people's spirits as the year 2020 came to an end. We decided to do a Christmas song because we all really love Christmas."
They also released new Christmas merch, which you can find on TheTrioShop.com!
Tayler recently opened up about the song and music in an interview on the Zach Sang Show.
"Music has always been something that's been such a… I've wanted to get into it, but I never really had the knowledge or the team behind me to really attack that career," he said. "Being an influencer and making you know, so many different connections and producers, and writers, and all that stuff, kind of brought me more into the music space where I wanted to be. Over the last year and a half is whenever I really got to start working hard on music and just building that out."
"We tried to make it not like super cheesy, like Christmasy. We want people to have fun with the song as well, like kind of turn up, it's kind of fun and boppy," Tayler added about the new Christmas song.

The Trio – 'Feels Like Christmas'
Like Just Jared Jr. on FB