Mon, 14 December 2020 at 5:57 pm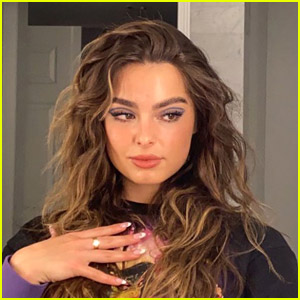 Addison Rae is dishing on adjusting to fame in a new podcast episode!
The 20-year-old He's All That star opened up about public scrutiny, dating in the public eye and more on her podcast Mama Knows Best.
On social media and the scrutiny of living in the public eye: "It's brought so many amazing opportunities and blessings that like, it's almost just worth it … I'm not bothered by it, I don't really care what narratives people put on things because that doesn't change the truth … knowing yourself, knowing your intention, knowing who you are and the truth behind a photo, video, picture, whatever, conversation, you know who you are behind it, so it doesn't even really matter."
On adjusting to fame since the pandemic started: "This time that the world went into, it happened when I was probably growing the most … The most recognized I was getting on the internet and like in media, was like a time when I was literally in my house at all moments … When I go out even now, let that be one person that notices me or 100 people that notice me … I love it … I think adjusting to that hasn't been hard for me because I just love conversation and meeting new people."
On dealing with fame and relationships: "If I like someone, it usually gets on the internet, and then it's like, that's something I maybe would have wanna kept private, and then it's like just worrying about people obviously speaking on things that you are like 'Oh, well I wanted that to be not a public thing … It's just a part of it and I've learned to really keep things private that I want private.
On her advice to those who want to follow in her footsteps: "For anyone that's like curious I guess about this lifestyle and like what it is… I don't know, I feel like I definitely think if you can mentally handle it, which is really hard to decipher before you're in it, then it's so worth it. I love where I am, I love what I do and I love the people I'm around, that I have no issue with my life being public … Life literally is just what you make it, and I'm mentally so strong, I feel like, that it doesn't affect me anymore."
In case you missed it, check out what Addison shared about preparing for her starring role in the upcoming movie He's All That.
Like Just Jared Jr. on FB