Fri, 18 December 2020 at 4:39 pm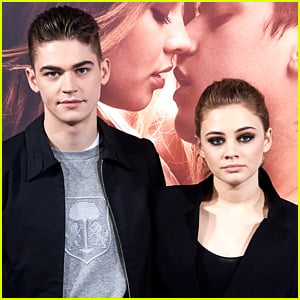 That's a wrap on the next two After movies – After We Fell and After Ever Happy!
Stars Hero Fiennes-Tiffin and Josephine Langford shared a video message to fans on the film's official Instagram account.
"Thank you guys SO much. It's thanks to you that we were able to do this, so we hope you love the movie. It's been an absolute pleasure," Hero says. "Thank you to everyone behind the camera who you can't see, let's have a round of applause for them. Thank you. It's not just us, it's everyone else who made this possible."
"Such a pleasure, honestly," he added with a hug to Josephine. "We hope you enjoy After three and four, and that's a wrap!"
The cast filmed both movies back to back in Bulgaria, and finished just a few days before After We Collided lands on Netflix.
The upcoming two movies in the franchise will star quite a few new faces, as some cast members were replaced with different actors in order to film them when they did.
If you missed it, Hero, Josephine and After We Collided are all nominated for multiple 2020 Just Jared Jr Fan Awards, as well as their new co-star Chance Perdomo. The categories they are nominated in include Favorite Actor, Favorite Actress, Favorite Drama Movie and Favorite Movie Cast. Be sure to vote for them in all of their categories!
Like Just Jared Jr. on FB