Mon, 21 December 2020 at 7:29 pm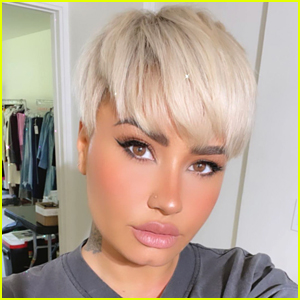 Demi Lovato is opening up about her shocking hair transformation back in November.
The 28-year-old singer and actress went on Kesha's "Kesha and the Creepies" podcast, and was asked about the change.
"I wanted to go platinum, almost white, and it's like my hair is so dark, that it literally, this is all it could do yet," she told Kesha. "I have to get it healthier, then I can take it lighter."
"To me, it was like a spiritual and emotional thing rather than, 'Oh, I need a new look,' or whatever. I've been putting my hair up in a ponytail for so long, and there's other reasons that I'll get into later," Demi added. "I've been putting my hair up for so long, I was just over it. Finally, I feel more like myself."
Demi's hair is much lighter now, as you can see in the more recent main photo, than it was when she initially got it done.
In case you missed it, Demi recently joined one of her favorite bands for a new remix of one of their songs!
Like Just Jared Jr. on FB