Mon, 28 December 2020 at 5:04 pm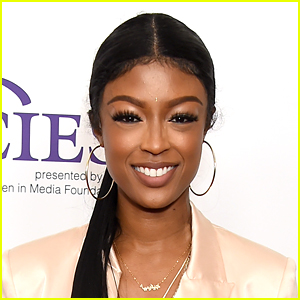 Javicia Leslie had a really big moment over the weekend!
The 33-year-old actress got to see her first ever billboard in person in Los Angeles.
Javicia appears in her Batwoman costume along with other CW DC heroes in a big billboard on the side of a building.
"You guys, there it is, there it is! I'm on my first billboard!" she says in a cute video clip.
"When I first moved to LA, I used to drive up Sunset Blvd and look at the billboards for inspiration," Javicia wrote on Instagram. "I would park my car underneath one and study for my auditions, while looking at what I wanted for my future."
"This is manifestation and hard work, one does not exist without the other! You can work your behind off, but if it's not something you truly believe in, you'll only go so far," she continued. "You can dream your behind off, but if there's no work ethic to support it, it'll only be a dream! Malon, Dawson, and Malec… may this be the beginning of proving that dreams can come true if you work for them! #CWBatwoman"
Javicia has been reposting other people who have seen the billboard on her Instagram story, and we're so happy she got to see it in person herself!
In case you missed it, check out Javicia and her co-stars in the Batwoman season two trailer, and the recently released new stills from the premiere!
Like Just Jared Jr. on FB