Tue, 29 December 2020 at 4:24 pm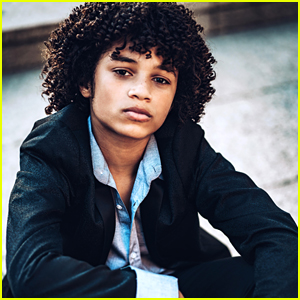 JJJ is getting to know Lyon Daniels!
The young actor stars as one of the kid superheroes in the new film We Can Be Heroes, now streaming on Netflix.
Lyon plays Noodles in the movie, which is actually his feature film debut! He's previously had roles on Prime Video series Patriot and Fundamentally Cynical.
Here's a synopsis: When alien invaders kidnap Earth's superheroes, their kids are whisked away to a government safe house. But whip-smart tween Missy Moreno (YaYa Gosselin) will stop at nothing to rescue her superhero dad, Marcus Moreno (Pedro Pascal).
Missy teams up with the rest of the superkids to escape their mysterious government babysitter, Ms. Granada (Priyanka Chopra Jonas). If they're going to save their parents, they'll have to work together by using their individual powers — from elasticity to time control to predicting the future — and form an out-of-this-world team.
"Robert [Rodriguez] has been the most amazing director to work with since he is always so nice and chill," Lyon said of the movie's director. "While he is directing us he sometimes busts out his guitar and plays little riffs. He also gives us drawing assignments to help keep our creativity flowing. We had a dinosaur illustration wall hanging up on set where we would hang up our best drawings."
Check out 10 Fun Facts with Lyon Daniels below:
1. I am really into drawing, and I like to illustrate dinosaurs the most. I am really into dinosaurs and can name many of them like the Dryptosaurus, Oxalaia, eoraptor, and more.
2. I'm a big fan of Godzilla. I have watched most of the films. I love any form of kaiju or giant monster films, for that matter.
3. My spirit animal is a panther. I think they are really cool and to be honest, they are my favorite animal.
4. I film, edit, and produce my own movies. I usually make films about dinosaurs, or I make films with my brothers, usually thrillers.
5. My zodiac sign is Gemini, so I'm a party animal.
Click inside for more facts inside…
6. I am reading a lot of books right now. I'm currently rereading the Harry Potter books. I feel like reading entraps you in a wonderful world where you can get away from reality for just a minute.
My favorite trilogy is the Jurassic Park series. I love the horror and scientific fantasy behind it. What if we brought back dinosaurs? What a wonderfully crafted idea.
8. I write scripts and storyboards for my movies.
9. I make my own comics.
10. My favorite Disney movie is Peter Pan. I grew up on it. I also like to think of myself as Peter Pan and my friends/brothers as lost boys. Sometimes I'll draw myself as the animated Peter Pan.
Click here to watch the We Can Be Heroes trailer and be sure to check out the movie on Netflix now!
Like Just Jared Jr. on FB