Mon, 04 January 2021 at 7:44 pm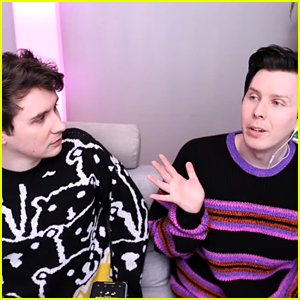 Dan & Phil are back together on YouTube!
Phil Lester, otherwise known as AmazingPhil, shared a new video on his channel on Monday (January 4), and it featured his longtime friend Dan Howell, aka DanIsNotOnFire.
The new video is the visual form of a recent audio broadcast on Stereo, and they shared some life updates, like they bought and designed a house!
Dan also shared an update on himself, as he has been taking a break from YouTube. His last video was his coming out video in June 2019.
"As we know, I have clearly taken a break from regular YouTube uploads. Not that I ever arguably had regular YouTube uploads," he said. "This was an emotional and spiritual, and personal growth journey that I choose to be on."
"'Cause you know, the gay video, everything else, I really felt like I hadn't really had time to ask, who am I? What do I want? What am I doing? Why?" Dan continued. "And I'm in that period… Well, there were supposed to be a couple of things and then 2020 happened. Let's move on from 2020, shall we?"
"Look, I know that people miss me, and I appreciate that. And I really value the fact that people support and they care about me, not just like a 'How are you Dan, what you up to?' personally, but that they express an interest in wanting more content from me. That makes me feel happy," he added. "So I just want to say thank you to all of those people. I know that I could probably post more on Instagram and Twitter…"
Fans were even extra excited to see the duo back on camera together, on YouTube. See some reactions below!
Like Just Jared Jr. on FB