Mon, 11 January 2021 at 8:03 pm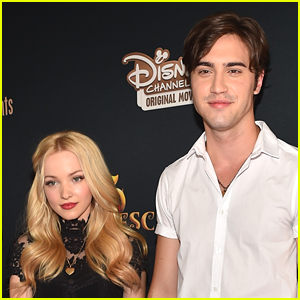 Ryan McCartan is getting ready to release a new song called "Politician."
The 27-year-old actor and musician revealed the news on his Instagram and shared what the song is about, including his past relationship with Dove Cameron.
"I wrote this song about the power of lying in love," he wrote. "As a child I was madly in love with a man who lorded his charisma over me to manipulate me into believing his abuse of me was a positive force in my life."
"As an adult I was madly in love with a woman who mobilized a cult of personality so freely and effectively that I get regular death threats to this day," Ryan added. "And as a citizen I have watched a shocking percentage of my countrymen fall madly in love with a sociopathic narcissist, a relationship developing to the point where a dangerous mass of people have expressed their willingness to kill themselves and others in the name of circumstances so devoid of truth that they have become considered one of the greatest threats to our republic."
"This song is about all of those things; and this song is also a total bop, so I can't wait for you to hear it," he said. The song will be out NEXT Friday, January 22nd.
One fan responded in the comments, saying that she has to unfollow Ryan for bringing up his past relationship once again.
"idk how you don't see this is clearly abusive behavior. she literally doesn't even talk about you and you STAY bringing her up even though you're in a "healthy" relationship," they wrote. "so this song is about a privileged white man who feels like everything is directly affecting him. got it."
Check out Ryan's response below…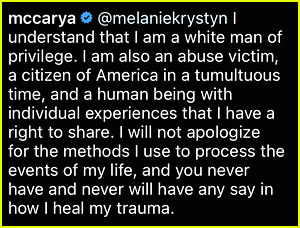 If you missed it, almost a year ago exactly, Ryan claimed that Dove "cheated on and left" him. He then wrote an open letter about their relationship and breakup.
Like Just Jared Jr. on FB