Wed, 13 January 2021 at 7:30 pm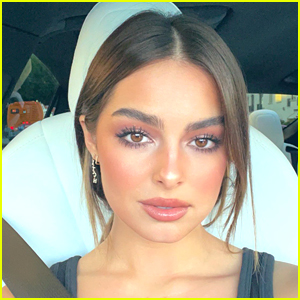 Addison Rae is dishing on TikTok!
The 20-year-old recently opened up about how she deals with negative comments and if she would ever ditch the app.
"The simple answer is I try not to read them…. But I read them," Addison told Mane Addicts. "I have to remind myself that the people who leave the hateful comments don't know me. They think they know me based off what they see on social media but they don't know me completely. So I can't let that affect my heart and soul."
Addison also touched on how she stays grounded when other TikTokers are caught in negative headlines.
"This is difficult [laughs]. I've definitely had my share of headlines. It's definitely not true at all [that everyone loves me]," she said. "I receive a lot of hate and for the craziest things. People seem to hate me for being too nice… they just hate it. People are actually so upset about me smiling all the time. They're like, what the [expletive] is this [expletive] happy about? No, literally, if I laugh in a TikTok, people are like, 'Why does she have to laugh about everything she does?'"
"I just remind myself at the end of the day that I surround myself with good people who love me and I love them. People want to hide behind the screen and use that to their advantage," Addison continued. "I always look at it, too, like people who have negative things to say, a lot of them are going through things themselves, and they're trying to deflect that onto someone else. When you see someone on the internet who's getting a lot of likes or followers, you don't necessarily think they'll see [negative comments], so you just want to project that onto them. It's like, if I feel this way, I want someone else to feel it, too. f people are being hateful, I just wish the best for them, you know?"
As for if she would ever stop posting on TikTok, "No, I think as long as it's a thing, I'll be on it."
Like Just Jared Jr. on FB