Wed, 20 January 2021 at 3:06 pm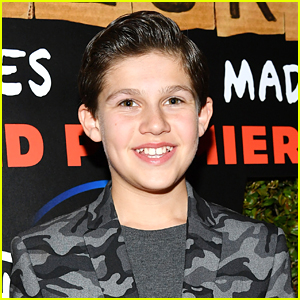 Jackson Dollinger just released his brand new EP Social Isolation, and he opened up about the tracks with JJJ!
The 14-year-old Sydney To The Max actor and singer dropped the four song EP this week, his first new music release of 2021.
"This four-song project means a lot to me because I wrote, produced and recorded all of the songs in my home studio during the COVID-19 quarantine. Diving deep into music during this period of social isolation gave me an outlet for my feelings and emotions. It was very therapeutic for me," Jackson shared with us.
The young star also shared a little bit about each of the four new tracks on his EP, which you can check out below!
In addition to his budding music career, Jackson also stars as Young Max on the Disney Channel series, Sydney To The Max, which you can watch the first two seasons on Disney+!
Click inside to learn more about each track…

Jackson Dollinger – 'Golden Hour'
On "Golden Hour": "Everyone has at least one thing they can find joy in and I consider 'Golden Hour' my new personal mission statement."

Jackson Dollinger – 'Moonlight'
On "Moonlight": "For the song 'Moonlight,' I collaborated with an artist from The Netherlands, Kish, to make a song that anyone could enjoy. 'Moonlight' is about having someone in your life that you want but isn't good for you. It's also about trying to resist wanting to be with that person and trying to move on."

Jackson Dollinger – 'Wait or Run'
On "Wait or Run": "Even though it may not seem like it, 'Wait or Run' is actually a song about quarantine. It is about being in love and not being able to see the person because of quarantine. It also explores having a one-track mind and only thinking about that particular person."

Jackson Dollinger – 'Walk Alone'
On "Walk Alone": "'Walk Alone" is about independence. It is about not needing someone to find your true authentic self. This song could be interpreted as finding the silver lining and realizing that good can come out of a bad situation or relationship."
Like Just Jared Jr. on FB