Thu, 21 January 2021 at 4:32 pm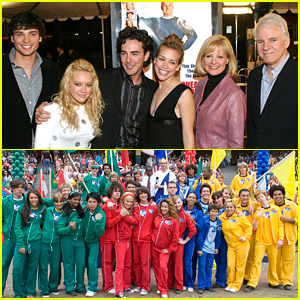 There are some great new additions coming out on Disney+ in February!!
The streaming service will be adding some new titles, including long-awaited TV series, and some nostalgic movies.
Also premiering on Disney+ in February is the second batch of episodes for Inside Pixar, the new movie Flora & Ulysses, and of course new episodes of WandaVision.
Fans can even look forward to Cheaper By The Dozen and Cheaper By The Dozen 2, as well as the Disney Channel Original Movie Upside-Down Magic.
At the end of the month, we can expect all three season of Pair of Kings, both seasons of American Dragon: Jake Long AND the first season of the Disney Channel Games!
For the ultimate Throwback Thursday, check out the gallery for photos from the Disney Channel Games All Star Party from 2007!
Click inside to see the full list of new titles coming out on Disney+ in February…
Friday, February 5
Disney My Music Story: Yoshiki
Disney Upside-Down Magic
Wicked Tuna: Outer Banks (s7)
WandaVision – New Episode
Friday, February 12
Life Below Zero: The Next Generation (s1)
Marvel Battleworld: Mystery of the Thanostones (s1)
Marvel's Behind the Mask
WandaVision – New Episode
Inside Pixar: Portraits – Second Batch
Friday, February 19
The Book of Life
Cheaper by the Dozen
Cheaper by the Dozen 2
The Muppet Show (s1)
The Muppet Show (s2)
The Muppet Show (s3)
The Muppet Show (s4)
The Muppet Show (s5)
Flora & Ulysses – Premiere
WandaVision – New Episode
Friday, February 26
Car Sos (s8)
Disney Channel Games 2008 (s1)
Disney Illuminations Firework Show Disneyland Paris
Disney Pair of Kings (s1)
Disney Pair of Kings (s2)
Disney Pair of Kings (s3)
Disney Roll it Back (s1)
Disney's American Dragon: Jake Long (s1)
Disney's American Dragon: Jake Long (s2)
Mickey Go Local (s1)
Okavango: River of Dreams
Shanghai Disney Resort Grand Opening Gala
Myth: A Frozen Tale – Premiere
WandaVision – New Episode
Like Just Jared Jr. on FB