Thu, 21 January 2021 at 7:44 pm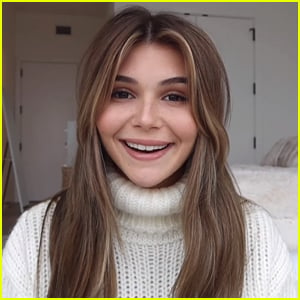 Olivia Jade has returned to YouTube!
The 21-year-old posted her first new video since December 2019.
She kicked off her video with an intro addressing the college admissions scandal and her Red Table Talk video.
"I am really excited because obviously I haven't filmed in a really long time and I'm just grateful to be back on YouTube and I'm really excited for you guys to watch this video," Olivia said. "I wanted to film this little intro part just because I didn't want to just start the vlog and me not address anything."
"Obviously, did my Red Table Talk interview and I think if you have any questions for me or you have anything to say or you're like 'Why are you back?' you can go watch that interview. I think I kind of disclosed what I thought I needed to say on there," she added.
Olivia also added an additional insert explaining, "I didn't want this to come across the wrong way… I don't mean to say that in a dismissive way or a pretentious way. I think what I was trying to get across was I felt like the thing I wanted to do the most was apologize for so long and I felt like I got to do that at Red Table."
"Although I can't change the past, I can change how I act and what I do going forward," she continued. "I just didn't want anybody to take it the wrong way and seem like I'm being like, 'I went on Red Table and now my name's cleared!' Like, no that's not it. But just for my own mental sanity I don't want to keep rehashing things. I just want to move on and do better and move forward and come back and do what I love, which is YouTube."
Olivia Jade also shared a disclaimer about the money she makes off of her videos.
"I will be donating a percentage of my adsense on ALL videos going forward to a charity I work with and really admire," she wrote.

daily vlog x olivia jade
Like Just Jared Jr. on FB