Mon, 25 January 2021 at 2:02 pm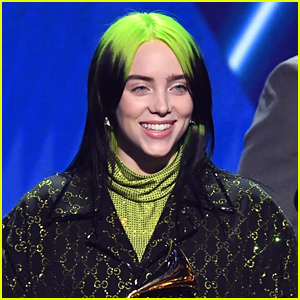 Warning: This post contains comments about self-harm and body image struggles.
Billie Eilish is speaking out about her relationship with her body and what other people think of her.
The 19-year-old singer opened up about the photos of her in a tank top arriving at her brother's house last October.
"I think that the people around me were more worried about it than I was, because the reason I used to cut myself was because of my body. To be quite honest with you, I only started wearing baggy clothes because of my body," she told Vanity Fair.
"I was really, really glad though, mainly, that I'm in this place in my life, because if that had happened three years ago, when I was in the midst of my horrible body relationship—or dancing a ton, five years ago, I wasn't really eating. I was, like, starving myself," Billie added. "I remember taking a pill that told me that it would make me lose weight and it only made me pee the bed—when I was 12. It's just crazy. I can't even believe, like I—wow. Yeah. I thought that I would be the only one dealing with my hatred for my body, but I guess the internet also hates my body. So that's great."
"The internet hates women," she said.
If you missed it, last year, Billie released a video interlude from her tour where she talks about her body and the opinions others have about it.
Billie will soon release her new documentary, Billie Eilish: The World's A Little Blurry. Watch the trailer here!
Like Just Jared Jr. on FB