Wed, 27 January 2021 at 6:50 pm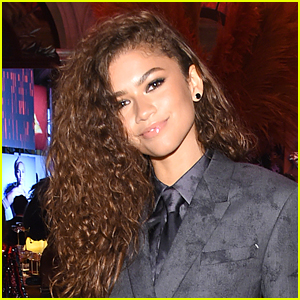 Zendaya isn't trying to erase her Disney past at all, in fact, she embraces it!
The 24-year-old actress recently opened up to Carey Mulligan in an "Actors on Actors" interview with Variety.
"The thing is, I am [a Disney kid]. And to a degree, I am grateful for that," Zendaya shared. "That's where I started, and I learned so much from that experience. It's just kind of been this slow progression, and I am happy that it's all been to prove it to myself and not to anybody else, you know? I embrace it a little bit. It's part of my heritage to a degree."
She also said that Euphoria creator Sam Levinson found her while she was still on the Disney Channel.
"Before Euphoria, technically I was still on Disney Channel. He must have seen something in me," she added. "He said that I was on a mood board for Rue. And I was like, 'No, you didn't!' I think there's something to that kind of faith, and already seeing something in me that I maybe knew was there, but I didn't ever have the opportunity to explore."
"I've always felt that I could bring things to the table: that I could be creative and free to try things, and put out bad ideas. Because of the Disney kid thing, I get scared of that kind of thing," Zendaya continued.
For a refresher, Zendaya starred on the Disney Channel in shows Shake It Up and KC Undercover, as well as DCOMs Zapped and Frenemies. She also appeared as a guest star on A.N.T. Farm and Good Luck Charlie, as well as voicing characters in Pixie Hollow Games and Super Buddies. She was also signed to Disney's record label, Hollywood Records.
Though Zendaya's Disney Channel days are behind her, she still works with Disney as they own Marvel, who partners with Sony on the current Spider-Man movies that Zendaya stars in.
Like Just Jared Jr. on FB