Thu, 28 January 2021 at 7:10 pm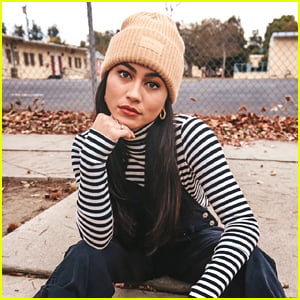 Lindsay Watson is starring in her first movie Finding 'Ohana!
The up and coming actress stars in the Netflix film as Hana Okumura.
Here's the logline: A summer in rural O'ahu takes an exciting turn for two Brooklyn-raised siblings when a journal pointing to long-lost treasure sets them on an epic adventure with new friends, and leads them to reconnect with their Hawaiian heritage.
Finding 'Ohana is the first movie that Lindsay has filmed, which took place back in 2019 in her native home of Maui, Hawai'i. The set was even two minutes down the road from where her grandmother lived!
She also has another movie on the horizon, The Wind & The Rockoning, where she will portray the historical role of Pi'ilani.
We learned more about Lindsay with 10 exclusive fun facts! Check 'em out:
1. I've played soccer for 15 years. I started when I was 4 years old and played all through high school, where I was the team captain. I was a pretty tough player so I even got the chance to play on the boys team for a few years!
2. My favorite food is rice. I honestly eat it with every meal. Fried rice is hands down my favorite rice dish, it's the only thing I eat when I'm back home in Hawai'i.
3. I'm obsessed with cats. I've had cats my whole life, so it was impossible for me to not fall in love with them. I have a cat that is deaf and only has one eye and her name is Winky (cause she's always winking lol).
4. Most Hawaiians not only have a middle name, but also a Hawaiian name that is given to them at birth. My Hawaiian name is Anuhea, which means the cool, sweet fragrance of the upland forest.
5. I am extremely afraid of heights, but I actually had to face that fear on the set of Finding 'Ohana. They had me in a harness hanging 45 ft in the air for a stunt!
Click inside to find out more about Lindsay Watson…
6. My ethnic background is very diverse: Hawaiian, Chinese, Japanese, Filipino, Irish, Spanish, Native American, and maybe more!
7. I LOVE coffee, like totally addicted. I can't go a day without drinking it. I know it's bad, but I go out and buy a cup of coffee every day at either one of my favorite coffee shops: Blue Bottle or Philz.
8. I oddly love to clean and organize. It makes me feel so relaxed and happy! I actually used to help people organize their homes as a job and it was honestly the best job ever. Marie Kondo is my guru.
9. I went to a school that focuses on Hawaiian studies and all the students were of Hawaiian descent. It was founded by one of the last princesses of the royal monarchy of Hawai'i.
10. Music is my life. I have music playing almost every second of the day and I'm always searching to find the newest music. My favorite bands are Kings of Leon, Mumford and Sons, and Young the Giant. I also love to sing.
Finding 'Ohana debuts on Netflix on Friday (January 29)!
Like Just Jared Jr. on FB