Thu, 28 January 2021 at 6:03 pm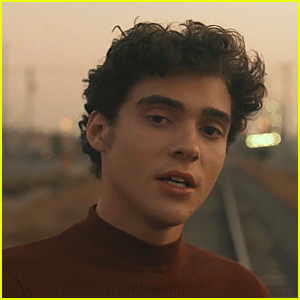 Joshua Bassett just dropped his brand new song "Only a Matter of Time"!
The 20-year-old not only released the song from his debut EP, but the music video as well, which just features a close up of him singing the song on a railroad track.
"It's only a matter of time / an eye for an eye / you'll go blind / and when did you stop being kind? / you twisted your words like a knife," Joshua sings in the song. "I'm sure that you're hurting inside / Why would you make your pain mine? / Making me pay me for your crimes."
He first announced the release the day before, and included a pre-release note for fans.
"hiiii i wrote this song half a year ago, and this release has been scheduled for months!" he wrote. "very proud of this one and can't wait for you all to hear!!! :)"
His HSMTMTS co-star Matt Cornett also commented, "Can't wait for this one. One of my favorites. 👏🏼"
"I wrote this song in the summer of 2020 in a moment in time where social media was bringing a lot of darkness to my life," Joshua added in a press release about the track. "It was healing to put my phone down, turn off the noise and just write. There's good that comes from social media, but it's also become a place where people can say anything about anyone, no matter how false or damaging with no accountability. We've gotta be much kinder to each other and recognize there are real people behind the screens!"
In case you missed it, it was recently confirmed that Joshua has a duet with Sabrina Carpenter on his upcoming EP!

Joshua Bassett – 'Only a Matter of Time'
Click inside to read the full lyrics…
Like Just Jared Jr. on FB