Fri, 29 January 2021 at 5:55 pm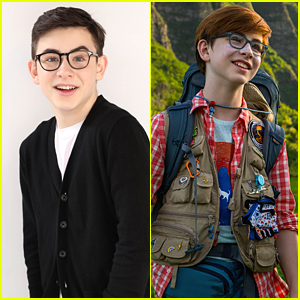 Owen Vaccaro has a super cool new movie out – Finding 'Ohana!
The 15-year-old actor stars as Casper in the film, which is out now on Netflix.
"What I loved most about this movie was the people working on it. We had an incredibly talented cast and crew," Owen told JJJ. "While filming in Thailand and Hawaii, the crew we worked with lived there and I loved learning about the Hawaiian and Thai cultures from them."
"Filming on this movie was an absolute blast because we got to do scenes I have never done before. Like stunt work and filming underwater," Owen added. "Plus, some of the cast got to do lines in another language which I think they hadn't done before"
He even shared that they got bombarded by bats while filming in the caves!
"While we were shooting in caves in Thailand, there were actual bats! They would come within inches of your face and then fly away. We have to block off a lot of entrances with giant tarps to film and when it would get dark, we would get bombarded by the bats because they would wake up! The crew and the cast would have to dodge the bats and everything!"
You may recognize the actor from some of his past projects – Disney+'s Noelle as Young Nick, Arrested Development as Young Buster, or Daddy's Home and Daddy's Home 2 as Dylan.
While speaking with the teen star, we also learned 10 Fun Facts about him. Check them out:
1. I love to travel! London is my favorite place. I thoroughly enjoy the architecture and how old everything was! I also love to travel to Florida because so much of my family lives there.
2. I love to crochet. Right now, I'm in the middle of crocheting a blanket that is blue, brown, yellow, and white. I have been crocheting since the start of quarantine and have made sweaters and blankets.
3. My favorite show is Schitt's Creek – a lot of people say I look like Dan Levy and act like David Rose!
4. My favorite movies ever are the Pitch Perfect movies! My order of favorites is the 3rd, 1st, then 2nd. I love Anna Kendrick to the moon and back and I know every single song to every single movie.
5. My favorite snack is Egg-in-a-Hole. You cut a hole in the center of a piece of bread and cook the egg in the middle. I spread avocado on top with garlic salt, salt, and pepper.
Click inside for more from Owen Vaccaro…
6. Kacey Musgraves is my favorite artist even though I don't love country music. My favorite songs of hers are "Butterflies" and "Happy & Sad."
7. I am obsessed with having a canned Yerba Mate in the morning before school.
8. I love to keep plants in my bedroom. In my mom's house I have 9 live house plants and I really think they make my mood better.
9. I have been to four out of the seven continents: Asia, North America, Europe, and South America.
10. I often find myself shopping online! Mainly for clothes and jackets. Urban Outfitters is the favorite place to shop but I also love thrifting – you can get so many cool clothes at those places.
Like Just Jared Jr. on FB