Thu, 04 February 2021 at 2:31 pm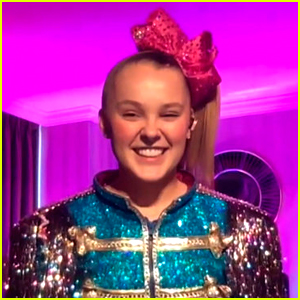 JoJo Siwa is opening up about her coming out process to the public!
The 17-year-old came out a couple weeks ago through a series of TikTok videos and she had some encouragement.
"I was doing TikToks with the people who are in the Pride House… and I was like, 'I think this TikTok that we're doing to 'Ain't It Fun' is going to out me,'" she shared. "I was like, I don't really mind because it is true. I do have the most amazing, wonderful, perfect, most beautiful girlfriend in the whole world. It's not something I'm ashamed of, I just haven't shown the internet yet. There's always been speculations of course, but I was like I think this is going to out me."
She then opened up about how her girlfriend helped encourage her to post the photo of her wearing the "Best Gay Cousin Ever" t-shirt.
"The day after I posted the 'Born This Way' TikTok, I was on FaceTime with her and we were just talking about it, and talking about all of the love that came in and technically I still hadn't confirmed it," JoJo said. "And I was like, I kind of want to just post this picture on my real story. She was super encouraging like, 'Do it!' I was like, 'Alright, and I did it.'"
JoJo shared that her coming out was actually a huge risk, given her platform. There has even been some backlash from parents and others, but she has received more than an outpouring of love and support.
"I was like, 'Technically it was a really big risk posting that… but if I lost everything that I've created because of being myself and because of loving who I want to love I don't want it, that's not what if I can't love who I want to love, that's one of the most important things to me," she said.
"About 10 minutes before I came out to do this interview today, I was again on the phone with my girl and I started crying," JoJo shared. "She's like, 'What's wrong with you?' I'm like, 'I'm just so happy because now I get to share what makes me the happiest with the world, and it makes my heart so happy.'"
JoJo didn't reveal who her girlfriend is, which is understandable, but did reveal that they are long-distance and are on the phone "literally 24/7. Both of our families get so annoyed at us."

JoJo Siwa Talks Coming Out & Girlfriend
If you missed it, JoJo also just announced her brand new musical movie, The J Team!
Like Just Jared Jr. on FB