Mon, 08 February 2021 at 10:27 pm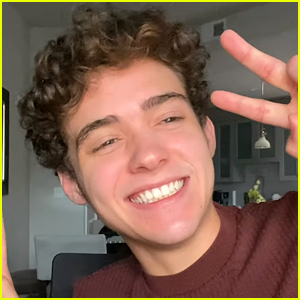 Joshua Bassett is dishing on his single "Lie Lie Lie," and all the drama speculation surrounding it.
The 20-year-old singer and actor breaks down the lyrics in the song, and addresses the online talk of it being about Olivia Rodrigo, in a new video with Genius.
"I thought it was funny, people sort of jumping to conclusions on who they think the song is about. And, you know, them thinking that I sort of wrote and released it within a week," Joshua said. "It's kind of ridiculous. I mean, there's literally proof on my Instagram that I wrote it two and a half years ago. And nobody will ever know who the song is about."
"But it is funny to sort of see the speculation on who people think it's about," he continued. "I've done my best to sort of make it clear that it's not about anyone in particular that they might think it is. But you know, people are gonna think what they're gonna think."
He also revealed that the song flowed right out of him while he was in his kitchen in just his underwear.
"I was standing in my kitchen, in my underwear with my guitar just like, messing around," Joshua said. "And I remember the situation and I got, I remember just getting so angry, and it's almost like I blacked out, and I just started singing. Most of the song just kind of spilled out from there."
If you missed it, see what Joshua's rumored girlfriend Sabrina Carpenter recently said about all the drama…

Joshua Bassett "Lie Lie Lie" Official Lyrics & Meaning | Verified
Like Just Jared Jr. on FB