Mon, 08 February 2021 at 4:36 pm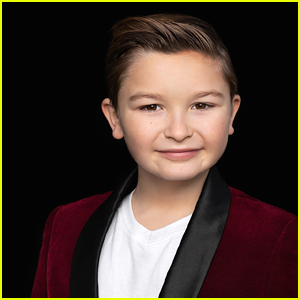 JJJ is in awe of Ryder Allen already!
The young actor can currently be seen starring in his first film opposite Justin Timberlake in Palmer, which is now streaming on Apple TV+.
Here's a synopsis: Former high school football star Eddie Palmer (Timberlake) went from hometown hero to convicted felon, earning himself 12 years in a state penitentiary. He returns home to Louisiana, where he moves back in with Vivian (June Squibb), the grandmother who raised him. While trying to keep his head down and rebuild a quiet life for himself, Palmer is haunted by memories of his glory days and the suspicious eyes of his small town community.
Things become more complicated when Vivian's hard-living neighbor Shelly (Juno Temple) disappears on a prolonged bender, leaving her precocious and unique 7-year-old son Sam (Allen), often the target of bullying, in Palmer's reluctant care. In time, Palmer is drawn into a more hopeful world as he forges a connection with Sam through their shared experience of being made to feel different by those around them. Life improves for Palmer, and a romance develops between him and Sam's teacher Maggie (Alisha Wainwright).
Ryder has been getting a lot of praise for his portrayal of Sam, and was even just nominated for a 2021 Critics' Choice Award. He's up for the Best Young Actor/Actress award!
"Ommmggggg what?? This is amazing! Thank you so much to the @criticschoice for this nomination and recognition of my work in #palmer!! This is just incredible kinda speechless…..#criticschoiceawards #palmermovie #appletv #thankyou 🙏🏼🤯😱🥰" he shared on Instagram. Congrats!!
JJJ got to know more about the rising star with 10 Fun Facts. Check 'em out below!
1. I worked hard to get the role of Sam in Palmer as I could relate and wanted to tell this story of acceptance and second chances. He has such a good heart and I think that we all need to be kind to each other above all else.
2. I love music and want to be a singer and release an album in the future. I have written several songs and like making them up freestyle too!
3. I am an orange belt in karate but I like VR boxing better :)
4. In early 2019 I found LOL dolls on YouTube and became obsessed. I collected over 100 LOL dolls in this time. I am currently obsessed with Bakugan toys and thanks to Ellen who sent me a whole bunch after appearing on her show, have quite a collection now! I also looovvee nerf guns. Shout out to Ellen, she is so great!
5. My favorite holiday is Christmas. I love the Christmas spirit, the love, the family and it reminds me each year to be grateful.
Click inside to learn more…
6. I love to bake and watch baking challenge shows with my sister, and then we have baking challenges together in our own kitchen.

7. I love animals! I have two dogs at home, a beagle and a white labrador and I am begging my parents to get a bunny!

8. I am a huge fan of Jurassic Park and got to meet Chris Pratt and have him sign a T Rex tooth! I was so young I was able to get to the front of the line and past security to meet Chris :) he gave me the coolest shoutout on the gram and I hope I can work with him!

9. I believe in good vibes and manifesting a good future. Always try to be a good person and always try to think positive!
10. I meet up with my whole family every year for New Years. It's the best tradition and keeps our family super tight. I'm so grateful and lucky we have this epic tradition.
Like Just Jared Jr. on FB