Tue, 09 February 2021 at 1:00 pm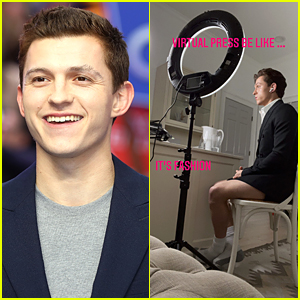 Tom Holland is still rocking the no pants look during virtual meetings!
The 24-year-old Spider-Man star shared a new photo while doing press for his upcoming movie Cherry, revealing his fashion for his interviews.
"Virtual press be like…. it's fashion," he captioned the pic. Check out a bigger version of the photo below!
Tom recently opened up about his co-star Ciara Bravo's performance in their upcoming Apple TV+ movie.
"Let me start by saying what a pleasure it was to work with her and get to know her. She's an amazing actress, and the film wouldn't be half the film without the performance that she gives," Tom told Variety. "I remember I wasn't at all involved in the casting process of Emily's character. And I remember The Russos sent me Ciara's audition tape two or three months before we started production."
"For the first time in my career, I was so intimidated," he continued. "I saw her tape, and I was like, 'Oh, she's like, too good,' and I need to do more work, because she's going to act me off the screen, and no one's going to want to follow my character. I thought the Russos were going to be like, 'f–k you, Tom Holland, we're rewriting the film with her now.'"
"I was so intimidated, and we were so lucky that she was so confident. You can only imagine she's a young actress," Tom added. "She's working with the two biggest directors, arguably of all time at the moment, and, and she's working on this really difficult film with the tricky subject matter. She was so confident, brave, talented, and unselfish in the way that she went about making the film."
Cherry will be out in about a month, on March 12th, in select theaters and on Apple TV+. Check out the trailer here!
If you missed it, see what Tom teased about the upcoming Spider-Man 3 movie…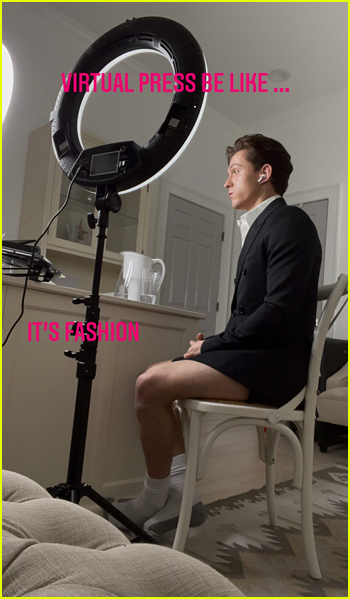 Like Just Jared Jr. on FB