Wed, 10 February 2021 at 7:23 pm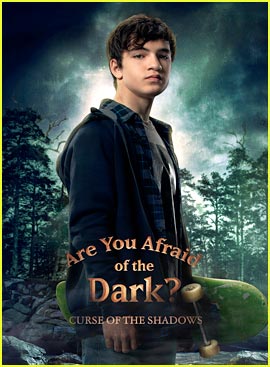 Get ready for even more of Bryce Gheisar on Nickelodeon!
The 16-year-old The Astronauts actor will soon also star in the second season of Are You Afraid of the Dark?: Curse of the Shadows as Luke.
Luke is a member of the Midnight Society and a spirited, imaginative and somewhat tentative teen. As a lifelong underdog, Luke escapes the world by retreating into his own imagination, writing stories about adventures and monsters, and spending time with his best friends and fellow Midnight Society members.
The upcoming six-part limited series follows an all-new Midnight Society group of kids who learn of the terrifying curse cast over their small seaside town, and are haunted by a mysterious creature known as the Shadowman.
If you really want a throwback, check out our interview with Bryce from 2017!
JJJ just got to know the current, teenaged Bryce Gheisar with 10 Fun Facts. Check them out now:
1. I can't stand arachnids of any kind. Daddy long legs are one of my biggest fears. I can't even think about it without being grossed out.
2. I used to be a gymnast from between the ages of 3-9.
3. I love most art forms including drawing. I usually draw with graphite pencils and either toned or regular paper.
4. My favorite food is pizza. I like to think that even bad pizza is good pizza.
5. I have 3 pets.  Two dogs and one cat. Ginny, Nala, and Bailey. Bailey is named after the dog in A Dog's Purpose. Ginny is from Harry Potter and Nala from The Lion King.
See more facts inside…
6. I used to do talent shows at my school every year, which got me in to performance arts.
7. I started acting when I was 8 years old. Before that, I didn't even know it was a possibility.
8. My dream is to be an action hero. I've always wanted to be an actor who does his own stunts.
9. I want to be a director when I get older. Acting is kind of like my preparation for the future.
10. I am an ambassador for a charity in Texas called Dallas Pets Alive.
If you missed it, check out our 10 Fun Facts with Bryce's co-star Arjun Athalye!
Tune in to Are You Afraid of the Dark?: Curse of the Shadows THIS Friday (February 12) on Nickelodeon!
Like Just Jared Jr. on FB