Mon, 15 February 2021 at 4:49 pm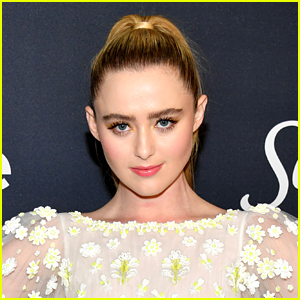 Kathryn Newton is dishing on being cast in the upcoming Ant-Man and the Wasp: Quantumania movie!
The 24-year-old actress shared that it's a dream come true and that she was scared to tell her dad, and for very good reason.
"The Society changed my life. The Society gave me so much, way more than just a job. I was 21 and I was the lead of a show and I had no idea what I was doing, not really. I think I fooled everybody," Kathryn told ET. "But in the middle of quarantine, we were supposed to go film [season 2], and the show got canceled. "It got canceled! My future was shot. I had no idea what I was going to do. And then a week later, I got a call from Marvel."
"I was freaking out. I'm still freaking out. I think it was a dream come true. I've wanted to be a part of the MCU since I saw my first Marvel movie. I just think they're the coolest movies ever," she added. "I just really want to do a good job."
"I didn't tell anybody [at first]. I still haven't really told anybody. I put it on Instagram, I put the announcement on, but I still haven't told my dad," Kathryn shared. "I never really said it to him because I don't want to get in trouble. I figure, if I just never tell him, I can't get in trouble when he tells somebody at the Coffee Bean about his daughter. You know dads, that's what they do. I'm just going to keep it under wraps as long as I can."
"I've always wanted to be in a Marvel movie, my whole life. But it was just because I was a huge fan. Every time one of them came out, I would go with my dad. It was what we did together, and we loved them," she continued. "It was our experience, just me and my dad going to the movies. But I couldn't have told you who I wanted to be. Or even if I ever would."
Like all Marvel projects, Kathryn can't say anything about her role or the movie, but she did offer a little tease.
"All I can say is that I'm excited to be a part of the Marvel Universe," she said. "It's a dream come true, and I'm going to do my best to be the best superhero of all time."
Kathryn will play Cassie Lang, the daughter of Paul Rudd's Scott Lang/Ant-Man. In the comics, she becomes the superhero Stature, who can shrink and grow just like Ant-Man, and she eventually joins the Young Avengers.
There are a few other Marvel characters who are in the Young Avengers that will be making upcoming appearances on TV series and in MCU movies.
Those include Hailee Steinfeld's Kate Bishop/Hawkeye, America Chavez/Miss America, who will be played by Xochitl Gomez in the upcoming Doctor Strange In The Multiverse of Madness and Kamala Khan/Ms Marvel, who will be played by Iman Vellani in the upcoming Ms Marvel series on Disney+!
We're super excited about the potential of a Young Avengers movie in the future!
Like Just Jared Jr. on FB