Mon, 15 February 2021 at 6:13 pm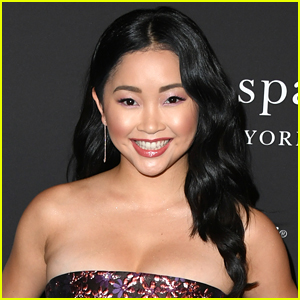 The final To All The Boys movie premiered on Netflix this weekend, but Lana Condor has not fully processed that it's over.
During a recent interview, the star of the franchise opened up about being in denial that it's come to a close and she also opened up about the possibility of more in the future.
"I'm so in denial, I can't even tell you how delirious and in denial I am about this ending," she told Access. "It is completely bittersweet. I love love the world of To All The Boys and I love Lara Jean. It has been so formative in me as a young woman finding my own voice."
"It has impacted my life in ways I could never have imagined and so it feels like a part of me is, I don't know. It feels like part of me is breaking. It's so sad," she added. "You know, I feel like I had to… So, the whole wrapping process was just miserable, but I kind of was like okay. I kind of had peace with it, and then I had to do ADR and a bunch of voice over. And the final monologue of the voice over, I had to do over and over and over and over again. Everything, my heart is just breaking a little every day, and finally I was like, 'You guys, do I have to keep going? Like it's physically hurting me.'"
"I'm clearly not ready, but excited for what's to come and feel very happy with the way we were able to end it," Lana said.
She also opened up in another interview about possibly reprising the role in the future.
"I think never say never. [But] the third is all I know. To me, that's the ending," Lana told the New York Times. "But I would really like to see Lara Jean and Peter in their mid-to-late 20s. Like they've gone through college and I want to see what they're like in the work space."
"I have this dream that Lara Jean is working in some realm of literature, I don't know, in New York, writing, living her life," she added. "I personally have this feeling that they're going to try to make it work in college, but they're going to have to grow separately to be fully ready to come together. But I know for a fact that they're going to get married; they're going to live happily ever after. I just think they might need to grow as individuals first."
Like Just Jared Jr. on FB