Thu, 18 February 2021 at 6:27 pm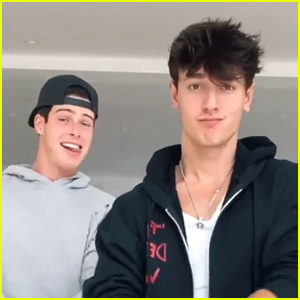 Bryce Hall and Blake Gray have made their pleas to charges of throwing parties in Los Angeles last year.
The two guys were charged with misdemeanors for throwing two parties at their Hollywood Hills house in the summer of 2020, despite stay-at-home orders during the pandemic.
According to E! News, Bryce and Blake have both pled not guilty.
Back in August, they had thrown big parties and were charged with causing a public nuisance and disobeying the local government's orders of not having large gatherings.
The Los Angeles mayor even authorized their power to be shut off, and it was.
"It's illegal, but we deserved it," Bryce told paparazzi at the time.
In late August, the Los Angeles city attorney said, "With hundreds of people attending, loud music all night long and cars blocking access for emergency vehicles, party houses are really out of control nightclubs, and they've hijacked the quality of life of neighbors nearby. As if that weren't enough, the hosts are incredibly irresponsible, with COVID-19 spreading and parties banned because of it. We've got to put a stop to it."
In good news, Bryce, Blake and more of the Sway guys recently invested in the product Sillybandz!
Like Just Jared Jr. on FB