Thu, 18 February 2021 at 4:22 pm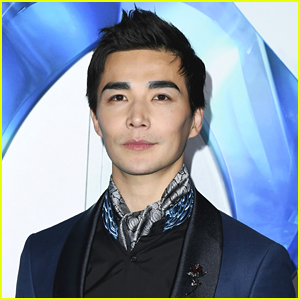 Ludi Lin is about to have an exciting year!
The 33-year-old Power Rangers actor is starring in the just released trailer for the upcoming Mortal Kombat movie.
Ludi stars as Liu Kang in the film adaptation, which centers on MMA fighter Cole Young, accustomed to taking a beating for money, is unaware of his heritage—or why Outworld's Emperor Shang Tsung has sent his best warrior, Sub-Zero, an otherworldly Cryomancer, to hunt Cole down. Fearing for his family's safety, Cole goes in search of Sonya Blade at the direction of Jax, a Special Forces Major who bears the same strange dragon marking Cole was born with.
Soon, he finds himself at the temple of Lord Raiden, an Elder God and the protector of Earthrealm, who grants sanctuary to those who bear the mark. Here, Cole trains with experienced warriors Liu Kang, Kung Lao and rogue mercenary Kano, as he prepares to stand with Earth's greatest champions against the enemies of Outworld in a high stakes battle for the universe. But will Cole be pushed hard enough to unlock his arcana—the immense power from within his soul—in time to save not only his family, but to stop Outworld once and for all?
Mortal Kombat is set to be released in theaters and on HBO Max on April 16th. Watch the trailer on YouTube HERE!
It was also just announced that Ludi has joined the cast of the upcoming Kung Fu reboot on The CW, according to Deadline.
He will play Kerwin, heir to the billionaire Tan family fortune. He is a "dashing, handsome, physically fit, and impossibly charismatic". He puts on a suave playboy act to the world but is driven by a deep hurt and antipathy towards his father. An erotically charged partnership with Zhilan will provide Kerwin with just the path to revenge (and vindication) he has been waiting for."
Kung Fu will premiere midseason on the network and follows a young Chinese American woman, Nicky Shen (Olivia Liang), who encounters a quarter life crisis which causes her to drop out of college and go on a life-changing journey to an isolated monastery in China. But when she returns to San Francisco, she finds her hometown is overrun with crime and corruption and her own parents Jin (Tzi Ma) and Mei-Li (Kheng Hua Tan) are at the mercy of a powerful Triad.
Nicky will rely on her tech-savvy sister Althea (Shannon Dang) and her fiancé Dennis (Tony Chung), pre-med brother Ryan (Jon Prasida), Assistant District Attorney and ex-boyfriend Evan (Gavin Stenhouse), and new love interest Henry (Eddie Liu) as well as her martial arts skills and Shaolin values to protect her community and bring criminals to justice…all while searching for the ruthless assassin who killed her Shaolin mentor Pei-Ling (Vanessa Kai) and is now targeting her.
Like Just Jared Jr. on FB