Thu, 18 February 2021 at 8:49 pm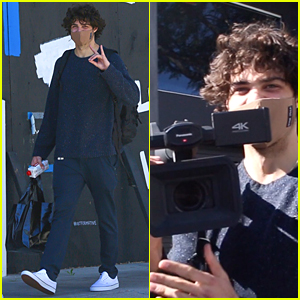 Noah Centineo was seen leaving the gym after a workout on Thursday (February 18) in West Hollywood, Calif.
The 24-year-old actor pulled out his own video camera to record the paparazzi while leaving the Dogpound gym.
Noah is getting pumped up and ready to start filming his upcoming DC Comics superhero movie Black Adam with Dwayne Johnson in a couple of months.
He recently opened up about prepping his body and bulking up.
"I'm gonna to be starting on the new Black Adam in about like two months. Hopefully if all goes to plan, which I hope it does. I'm very excited to do that, be a superhero which I've never done before, which should be fun," he told Australian radio host Smallzy.
"Well, so last time I gained I was doing 6,500 calories a day. This time this time will not be as… (how did you not get fat?) You're at the gym for two hours every day, good high intensity training and dying," Noah continued.
"I remember this one time I was eating breakfast, and I was eating at one point like 12 eggs in the morning and two bowls of oatmeal. I'd have like steak in the eggs and potatoes and fruit and stuff and we started putting spinach in the eggs. This is obviously first world issues of course…" he added. "But there was this a really long piece of spinach, I finished the eggs, I was like finishing my like 12 egg or something, spinach got caught in my throat, hit my uvula and I ran to the bathroom and threw up half of it. By the time I got back to my table my trainer had cooked me the eggs again and I had to sit down and finish them."
If you missed it, see what Noah shared about the first time he met Dwayne "The Rock" Johnson.
Like Just Jared Jr. on FB