Fri, 19 February 2021 at 5:20 pm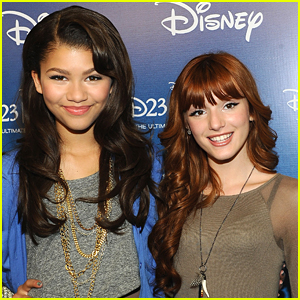 Bella Thorne and Zendaya's friendship didn't come easy and came well after they started working together on Shake It Up!
In a new interview, Bella opened up about the two young Disney stars being pitted against each other and what it took for them to become friends.
"We had to deal with that so much on Shake It Up," Bella told Us Weekly. "It's like we said [in] a couple interviews when we were younger, how we explained how in the first season we weren't friends and it took us those other two seasons of becoming so close. [It was hard] not having someone pitted against you [before] and then all of a sudden, now everyone is pitting you against each other. That fed into our heads. It made us not [be] friends in that first season."
Bella revealed that their relationship improved after a "beautiful talk in the middle of a sound stage" on the set of Good Luck Charlie.
She explained, "We were really able to put our cards out on the table and understanding each other."
"Zendaya's amazing. I f—king love her," Bella added. "She's always been amazing and she's always going to be amazing. I'm just happy that people see that. She's getting the recognition she deserves. That just makes me so happy. I feel like when people put us against each other, it's just like, … 'Why are you doing this? Is it just because we're women?'"
If you missed it, check out these throwback photos of Zendaya, Bella and many more Disney stars at the premiere of Justin Bieber's Never Say Never movie!
Like Just Jared Jr. on FB