Mon, 22 February 2021 at 6:28 pm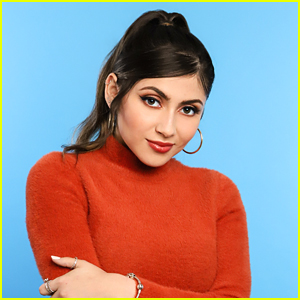 JJJ is learning more about Alondra Delgado!
The actress portrays Vanessa Montes in a recurring role on The CW's All American, and you can catch her in tonight's all new episode.
Vanessa is the daughter of the new head coach, Coach Montes (Alexandra Barreto), and the confident new girl at school who has a history with one of her classmates.
"She's very outgoing. She just wants to enjoy life in high school, she wants no drama," Alondra told Tell-Tale TV of her character. "But her presence ends up bringing a little bit of drama and secrets involving everyone's favorite characters."
You can catch Alondra in a new episode of All American, titled "Teenage Love," TONIGHT (February 22) at 8pm ET/PT on The CW.
In "Teenage Love," with everything that has been going on, Spencer (Daniel Ezra) needs some alone time to clear his head and decides to go to the family cabin, but he gets a surprise instead from his friends. Grateful for support, everyone seems to be having fun, until secrets come out.
Coop (Bre-Z) is still reeling from everything Spencer said and turns to Patience (Chelsea Tavares) for guidance. Meanwhile, Billy (Taye Diggs) shows up to the house to do a few repairs, but when things go awry, Billy and Laura (Monet Mazur), work together to fix the problem.
Click inside to learn 10 Fun Facts about Alondra Delgado…
1. I LOVE horror movies! I sometimes find them funny.
2. I don't like carrots, but love carrot cake!
3. I have many pets! A baby French Bulldog named Cash, a cute kitten named Gypsy, my brother has a big German Shepherd named Roxie, a spoiled Shih Tzu named Amaya, and a beautiful Ball Python named Medusa.
4. I travel to Puerto Rico every year, sometimes even twice.
5. I am obsessed with TV shows from Spain.
6. I have five little tattoos that I always get covered while filming.
7. I am hypoglycemic, so I always have to carry snacks with me.
8. My name, "Alondra," is actually a bird "Alauda Arvensis" that sings a lot.
9. I enjoy cooking a lot! I love trying to make new recipes.
10. I love to write and I prefer to write with a pen and paper rather than a computer.
Like Just Jared Jr. on FB