Mon, 22 February 2021 at 7:40 pm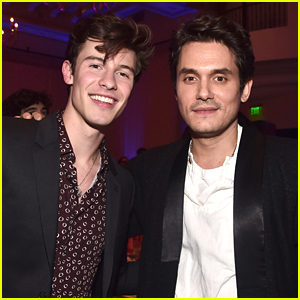 John Mayer has so many nice things to say about Shawn Mendes!
In a recent interview, the 43-year-old musician gushed over the 22-year-old and their friendship.
"There are times he comes in and there's only a finite number of studios in LA, because studios are kind of dwindling in terms of their need for most artists. So we, I mean, every time I see him, I just, it's just a gift when the universe pairs us up for a day," John told Andy Cohen on SiriusXM's Andy Cohen Live.
"I just will do anything for that kid. I love him. He's, he's so pure. He's so pure," he continued. "He's an artist without the trauma. And most artists are born from some kind of catalytic thing that trauma is a part of. And I look at him, I'm like, you're me without getting shaken up like a soda can you know."
John even added that they text often and go to each other for advice. Shawn even convinced him to do something!
"We text a lot. He has such great tastes and opinions on things that it really is both of us looking up to each other. It's not this sort of, you know, Obi-Wan-Luke thing," he shared. "I mean, I'll send him stuff of mine and he'll give me really good perspective on it. I mean, I just talked to him about my album cover, you know? And I go, 'I don't know whether I should put myself on the album cover,' you know, like sometimes I don't want to put my picture on the album cover and he goes, 'the world wants a record with you on the album cover.' And I went 'you're right.' And he convinced me to put, the next record I do, I'm going to be on the album cover."
If you missed it, Shawn just made a big change to his quarantine hair!
Like Just Jared Jr. on FB