Thu, 25 February 2021 at 12:23 pm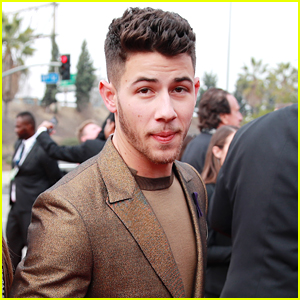 Nick Jonas just premiered his brand new single "Spaceman"!
The 28-year-old entertainer's new song is the title track off of his upcoming album of the same name. He'll be performing the song on SNL this weekend.
Nick's new album will be released on March 12th, and it will feature 11 tracks. He also told Apple Music's Zane Lowe that the album is mostly about his wife Priyanka Chopra.
"Most of the songs are pretty much just love letters, which when I can't articulate the way I feel with my words with no music, I go to the studio. And I'm grateful to have that because it makes her happy, and that's most important," he said.
"I think the key for me was trying to find a way to give this idea a persona, give it a name. So 'Spaceman' came into my mind because I was thinking, 'What's the one thing that all of us have felt during this time?'" Nick told Zane of the new song.
"It's just completely disconnected from the world. We've gotten so accustomed to looking at a screen instead of human interaction, and I think the thing that keeps us all encouraged and hopeful is just the idea of knowing that there will be a tomorrow when this isn't our reality, and I think the body of work as a whole tracks that," he continued. "But it felt like the right thing to start with "Spaceman" because it is such a stark visual and creative idea to then start the conversation of songs like "This Is Heaven," which I'm really excited about. It touches on some of the things I did with "Jealous" and tracks like that, but in a new way, and just trying to continue to get better and evolve every day, push myself."

Nick Jonas – 'Spaceman'
Click inside to see the full track listing for Spaceman…
1. Don't Give Up On Us
2. Heights
3. Spaceman
4. 2Drunk
5. Delicious
6. This Is Heaven
7. Sexual
8. Deeper Love
9. If I Fall
10. Death Do Us Part
11. Nervous
Like Just Jared Jr. on FB