Mon, 01 March 2021 at 2:43 pm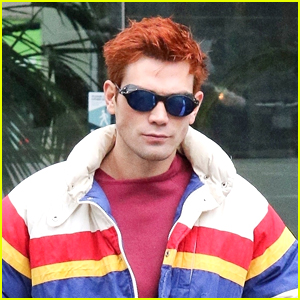 KJ Apa wears a cool pair of sunglasses while going out on Sunday (February 28) in Vancouver, British Columbia.
The 23-year-old actor also wore the same jacket that his co-star and friend Drew Ray Tanner wore the day before in an Instagram post.
KJ recently posed for photos for a new feature with Interview magazine, where he was interviewed by Demi Moore, and he opened up about being on Riverdale and how restricting it feels.
"I felt so free coming from a show where I feel like I'm in jail a lot of the time," KJ said about going from Riverdale to Songbird. "There are so many restrictions on what I can and can't do. With this character, it was like, 'Wow, this is what it's like to really express myself in a natural way.' I wasn't covered in makeup or hair products. I had long hair and a beard. I just felt free."
"There's been so much pressure in playing Archie. I'm so grateful for the show and its success, but at the same time, there's a lot of baggage that comes with that success," KJ continued. "I feel like the only people I can talk to about my issues are my costars, the people who can really relate to me. Cole [Sprouse] is an amazing person to have on set, because he's been doing this his whole life."
He also opened up about being judged on portraying a comic book character and people not separating them in real life, compared to their character.
"I try and look at it from a fan's perspective to understand the way they think. But there are times when I'm like, 'Wow, they really have no idea that we are actual people. They can't separate us from our characters,'" he added. "You don't have that in other professions. You don't dissect the life of a builder and start judging the decisions he makes in his life with his wife and kids. As an actor, I will be judged on everything: my political opinions, my opinions on drugs, my opinions on the people I want to be with. Everything. It's something I've had to come to terms with."
Like Just Jared Jr. on FB