Fri, 05 March 2021 at 6:15 pm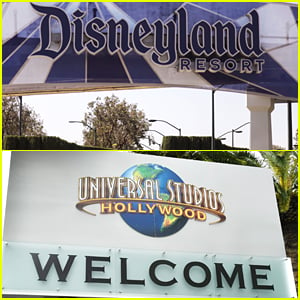 Huge news for California theme parks and the tourism industry!!
California government officials just gave the go-ahead to theme parks to open back up outdoors starting April 1st, according to Variety.
Parks will be able to reopen at "significantly reduced capacity, mandatory masking and other public health precautions."
"With case rates and hospitalizations significantly lower, the arrival of three highly effective vaccines and targeted efforts aimed at vaccinating the most vulnerable communities, California can begin gradually and safely bringing back more activities, especially those that occur outdoors and where consistent masking is possible," Dr. Mark Ghaly, secretary of the California Health and Human Services Agency, said in a statement. "Even with these changes, California retains some of the most robust public health protocols in the country."
This is big news for theme parks in California, as they are coming up on the one year anniversary of being closed. Parks closed March 14, 2020 due to the pandemic.
Disneyland president Ken Potrock just released a statement on the exciting news.
"We are encouraged that theme parks now have a path toward reopening this spring, getting thousands of people back to work and greatly helping neighboring businesses and our entire community," he shared. "With responsible Disney safety protocols already implemented around the world, we can't wait to welcome our guests back and look forward to sharing an opening date soon."
The OG Disney park is the last of the Disney parks to reopen. All of the other parks have been opened since last July, with many health and safety protocols in place. Earlier this year, Disneyland even suspended their annual pass program indefinitely as a reopen date seemed unlikely any time soon.
Like Just Jared Jr. on FB