Fri, 05 March 2021 at 7:25 pm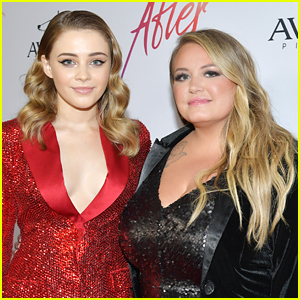 Josephine Langford is opening up about the giant fan base for her hit movie series, After!
The 23-year-old actress, who stars in the franchise as Tessa Young, recently dished on the franchise's following, and credits it to the author of the book series, Anna Todd.
"She's the one who wrote these books and really drove this huge amount of attention to them," Josephine told TooFab. "There's probably a lot of different things, but the story pulls you in because it's just a rollercoaster and you don't know what's going to happen next. And then when you're reading a book or watching a film, you go, 'Oh, okay, everything's fine now.' And [then] there's something else happens. So I think I would probably attribute it to just the story, and the ebbs and flows of it."
"I also think sometimes there's just something about things which people love and you don't know what that X-factor is," she added.
Josephine also dished on wrapping the final movie, After Ever Happy, which was filmed back to back with the upcoming third film, After We Fell.
It's always funny finishing a movie because there's never really this big last day with all the cast where it ends," she shared. "It's always like people are wrapping … [there's a] three, four, five-week-long process when cast members are like dropping off."
"It was really bittersweet because obviously, it was sad finishing it," Josephine said. "It doesn't really feel like it's over of it yet. I haven't accepted it. I think that's because the film just hasn't come out, but yeah bittersweet."
The first teaser trailer for After We Fell has been released, and it will be out later this year!
Like Just Jared Jr. on FB