Wed, 10 March 2021 at 6:51 pm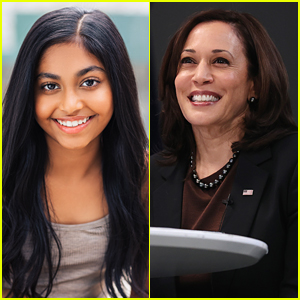 Sway Bhatia is opening up about finding inspiration and encouragement from Vice President Kamala Harris.
The 13-year-old shared a guest column with The Wrap on how representation matters and the connection she felt with the VP.
"I am Sway. Born Swayam Ranjeet Bhatia," she wrote. "Swa means 'mine,' and Swayam technically means 'I am,' but it's used as 'own-self.' This Sanskrit male name was chosen before my birth. My parents kept it for me when I was born a girl, and I feel its power every day."
"When I first heard the name Kamala Harris I didn't fully know her journey, but somehow there was an immediate connection," she continued. "It's not like hearing any other name for me, especially being Indian. It was recognizable. It sounded like one of me. I felt empowered and comforted once I learned more about her path."
"I remember how I felt when Kamala Harris announced her candidacy for president. I thought, if an Indian American woman could be president, then certainly, I can be an actor, dancer and songwriter. When Harris gave up her campaign, I worried, 'What if she just stops here?' But she didn't. She pushed forward — she pushed her ideas shaped by her identity. And now, she's the first Indian American, Black American, and female Vice President of the United States."
She added that she hopes that through her characters on TV, she hopes she encourages other young women of color.
"I hope that in some small way, my characters Sofi (The Mighty Ducks) and Sophie (HBO's Succession) will give young women of color someone to relate to, just as Kamala — the ultimate game-changer — has been a role model for me and so many others," Sway shared. "Kamala Harris' breakthrough has not only encouraged me to play my latest role, but to also keep pushing for my dreams."
You can soon catch Sway in The Mighty Ducks: Game Changers when it premieres March 26th on Disney+. Check out the trailer here!
Like Just Jared Jr. on FB