Tue, 16 March 2021 at 7:50 pm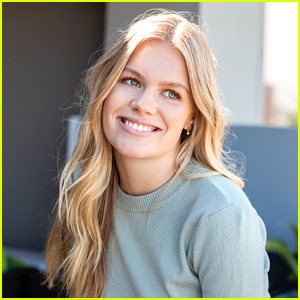 JJJ is getting to know Lexie Duncan!
The 21-year-old actress can currently be seen on NBC's Young Rock as Karen, Dwayne's teenage love interest.
The series focuses on different chapters of Dwayne Johnson's life. From growing up in a strong and resilient family, to being surrounded by the wild characters of his professional wrestling family, to playing football at the University of Miami, the show will explore the crazy rollercoaster that has shaped Dwayne into the man he is today and the larger-than-life characters he's met along the way.
While this week's episode focuses on the young adult years of Dwayne, next week's episode will be back to the high school days and you can catch Lexie then!
Young Rock airs on Tuesday nights at 8/7c on NBC.
Find out 10 Fun Facts about Lexie Duncan below:
1. I am an Australian/American Dual Citizen. I was born and raised in Sydney, Australia. My Dad is Australian and my Mum is American. She moved to Australia after college.
2. My first introduction to the industry was through Musical Theatre. I played Jane Banks in the Australian Musical Production of Disney/Cameron Mackintosh's Mary Poppins for a year when I was 11 years old.
3. I have the most adorable Pomeranian, who is named after my Mary Poppins experience. His name is Poppins, even though he's a boy. He doesn't seem to mind though.
4. During the filming of Young Rock, my cast mates Bradley Constant (15 year old Dwayne) and Taj Cross (Gabe) had a couple weeks off so we went to almost every tourist destination around Brisbane, including Australia Zoo. I have a distinct memory of their faces getting up close with our native animals like Kangaroos, Koalas – Priceless!
5. My go-to jam session music is almost any Broadway Musical cast recording – I'm a little bit of a theatre geek.
Click inside for more facts…
6. I come from a large extended family. I have four older sisters and an older brother. I also have six nieces and six nephews. Our Christmas's are very hectic but a lot of fun – with lots of food!
7. We filmed Young Rock in Brisbane in the Summer, when in fact our scenes were set in the Fall/Autumn in Pennsylvania. Bradley (15 year old Dwayne) and I have many sticky memories of getting our faces blotted by our amazing hair & makeup artists who managed to keep us looking fresh, while we were sweating through our winter wardrobe. But it was so worth it getting to wear all those incredible 80's looks – the iconic fashion was one of my favourite aspects of the show.
8. My favourite thing to do on a day off is to go for a swim at one of our amazing Sydney beaches. I just have to make sure I have lots of SPF 50 on – I burn pretty easily.
9. I love to sing as much as I love to act. I have been singing since I could talk.
10. I lived out my childhood dream playing a high school cheerleader on Young Rock. We don't have high school cheerleading in Australia, but growing up I was obsessed with the Bring It On movies and of course the Cheerios in Glee so little Lexie was stoked about being on the Freedom High Cheer Squad!
Like Just Jared Jr. on FB